This post may contain affiliate links. Please read my disclosure.
For years, I made this dish with a packet of onion soup mix and it is an easy and delicious supper. Recently, I was trying to lose a little weight and came across a version of this dish that tasted just like mine. I ended up adding a handful of dried onion flakes and wouldn't ya know it….It tasted just like mine. Only I felt better about it because I knew EXACTLY what had done in the dish.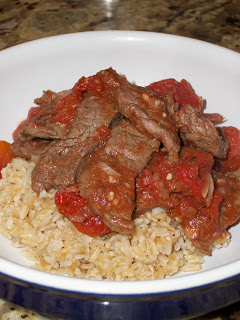 The only problem with this dish…my first version is called Swiss Onion Steak and the new version is Italian Beef. Which is it?!?!?! Italian or Swiss? I have no idea, but it's tasty!
Italian Beef over Rice
2 lbs round steak
1 clove minced garlic
1/4 tsp garlic salt
1/4 tsp Italian seasoning
1/3 cup dried onion flakes
1-16oz can diced tomatoes
salt and pepper to taste
Cut meat into fajita size strips (or cheat and buy fajita meat) and brown in a large pan. Add all seasonings and cook for 30 seconds. Add tomatoes. Reduce heat and simmer on low. I let it cook until rice in the steamer is done (I start the rice before I start anything else as it takes the longest). Season with salt and pepper. Serve over rice.
2. **To make in a slow cooker:
Combine seasonings. Cut steak into serving pieces and season with dry mixture. Place in slow cooker and pour in tomatoes. Cover and cook on low for 8 to 10 hours. Serve over rice. It has a different texture and a slightly different taste.
We prefer the stovetop method, but both are good.