This post may contain affiliate links. Please read my disclosure.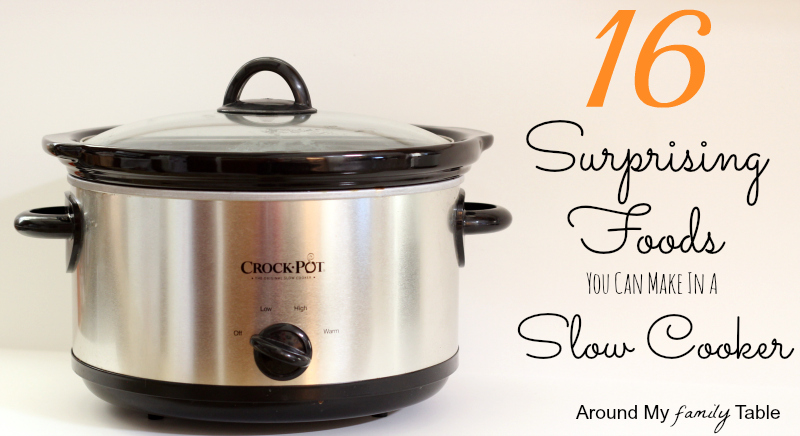 I love my slow cookers! I have about 5 or 6 of them in different shapes and sizes. I use them all the time and I'm always shocked when someone mentions that they don't have one, don't use the one they have, or hate the food that comes out of one. I have dozens of slow cooker recipes here that are not just a packet of this, a can of that, and some chicken. That's so old school….today's slow cooker recipes are amazing and ingenious! Without further ado…I bring you 16 Surprising Foods you can Make in a Slow Cooker!
1. Ground Beef–cook up a huge batch and freeze in zip top baggies for easy use in soups and casseroles or add taco seasoning for easy tacos!
2. Corn-on-the-Cob–granted corn on the cob is super easy, but sometimes you need extra time to get the rest of super on the table or need a huge batch for a party!
3. Baked Potatoes–baking potatoes in the oven is my preferred way to make them. However, if I'm not going to be home for the potatoes to cook perfectly in the oven, then pop them in the slow cooker and they will be ready when you are. Plus they taste very similar to the baked method.
4. Breakfast Casserole–This is the perfect method for a brunch dish or potluck..probably not so much for an actual breakfast due to cooking time. It only takes about 5-7 hours on low.
5. Oatmeal–There is nothing better than waking up on what will be a busy morning to a pot full of oatmeal just waiting to be devoured. Just place 3 cups liquid (1 1/2 cups water plus 1 1/2 cups milk of choice), 1 cup steel-cut oats, 1/4-1/2 tsp salt, and any additional add-ins (raisins, apples/cinnamon, nuts, etc), set pot on low and let it go 6-7 hours.
6. Lasagna/Enchiladas–I put these together because they are basically the same..a layered supper. Just layer in your ingredients as you normally would and cook on high for 4-5 hours. Here is my easy weeknight lasagna and leftover turkey enchiladas recipes to get you started.
7. Refried Beans–This is my favorite way to make beans. Cook pinto beans in crock pot…serve as is or remove a little liquid and mash with a immersion blender. Delish! Here's another variation of refried beans in the slow cooker.
8. Fruit Butters–I've linked to my pumpkin butter recipe, but once you get the fruit in the slow cooker the process is the same. Just add your spices and let it go on low…mashing every hour or so. Pumpkin ~ 4 hrs, Plum ~ 7 hrs, Pear ~ 10 hrs, and Apple ~ 14 hrs.
9. Apple Sauce–The difference between a butter and a sauce is the addition of the spices. Apple Sauce is so easy to do…peel and roughly chop apples. Add to slow cooker, with some sugar, and 1/2-1 cup water, let cook on low for 10-16 hours. Mash every hour or so until you reach the consistency you like. Chunky will take less time than totally smooth. Taste about half way through to make sure the sweetness is to your liking.
10. Brownies–Um…seriously! This is the best idea EVER! Use your favorite brownie recipe (or box) and pour it into a well sprayed slow cooker. Cook on low for 2-3 hours, but check often after 2 hours (so it doesn't burn on you). Once a toothpick is inserted and comes out clean, turn of cooker, replace lid, and let stand 15-30 minutes. Use a knife to loosed cooled brownies and then invert pot over a cooling rack to remove brownies.
11. Granola–Another wonderful idea. You can certainly use your favorite granola recipe (or try this Crock Pot Granola or here's my Pumpkin Granola that I plan to do this with). Basically, cook granola on low for 2-4 hours. Stir every half hour or so to keep it from burning around the edges. Leave the lid slightly cracked to allow moisture to escape to prevent soggy granola.
12. Dulce de Leche–Who knew it was this easy? Buy cans of sweetened condensed milk and remove label from the can. Place in slow cooker and fill with water (at least 1 inch above cans). Put on slow cooker lid and cook for 8 hours on low. Turn off cooker and remove lid and allow to cool. It's ready to use! Store leftovers in the fridge.
13. Yogurt–This is so easy and you'll be wondering why you spend all that money on the stuff from the store. You can add in any fruit you want after it's done to create "flavors" or I always just add in a spoonful of my current homemade jam.
14. Bread–Honestly, I've never tried this, but I've heard from several people that have and they said it's so good. This would be perfect during the summer when you don't want to heat your house up with an oven at 400 degrees or more. Another option is to put the slow cooker in the garage or back patio to really help keep the house cool in the summer. Hey…every bit helps!
15. Ham–Buy a fully cooked ham at the store, put it in the slow cooker on low for 4-5 hours. Baste several times during cooking. This makes the most moist and delicious ham EVER. You many never bake a ham again.
16. French Toast–This so good and easy too. I know there are other versions around, but this is my blueberry stuffed french toast and it's amazing. Makes a great brunch dish!
17. And because I couldn't stop at just 16 (and my friend reminded me of this one…after I made my graphic)…Hot Dogs! This is so easy…fill pot with water, add hot dogs, and cook on high until they are hot. Perfect for kids parties…okay, even regular parties too!
My good friend Janice at Celebrating Family wrote a post today about all the foods that you should be making from scratch….you should go check it out. She's got some great recipes and projects!