This post may contain affiliate links. Please read my disclosure.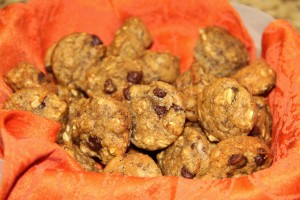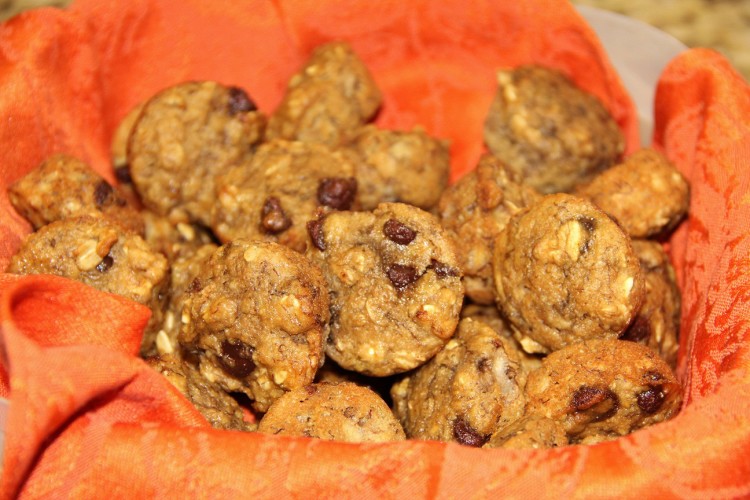 I've shared a lot of desserts and not-so-healthy dishes recently, so I figured I should balance it out and share this one. I made these cute mini-muffins for a church potluck yesterday and they were eaten up! No one even realized that there was no oil and made with whole wheat flour. If I was brave I would have played around with substituting the white sugar with honey or agave nectar, but I haven't made that leap yet.
They baked up nice and tender with just the right amount of sweetness and chocolate-y goodness. Even with 100 % whole wheat flour, they were still light and fluffy. I ground my wheat fresh, but any store bought 100% whole wheat flour should work just fine if you don't have a grinder or don't want to go to all the trouble. Next time, I will make a double batch!
Banana Oatmeal Chocolate Chip Muffins
3 large bananas, mashed
1/4 cup white sugar
1 egg, beaten
1 tsp baking soda
1 tsp baking powder
1 cup whole wheat flour
1/2 cup rolled oats (instant works fine)
1/3 cup applesauce
1/2 tsp salt
1/2 cup chocolate chips
Preheat oven to 350 degrees F.
Mash bananas in a large bowl then add sugar and mix well. Gently beat an egg in a small bowl and add to the mixture. In a separate bowl, combine all the dry ingredients, then add to the banana mixture and mix well. Add in applesauce, mix well. Finally, gently stir in chocolate chips.
Spray medium muffin tin with non-stick cooking spray or use paper liners. Spoon mixture into muffin tin until 3/4's full. Bake for 20-25 minutes.
Yield: 12 regular muffins (36 mini…bake for 15 minutes)