This post may contain affiliate links. Please read my disclosure.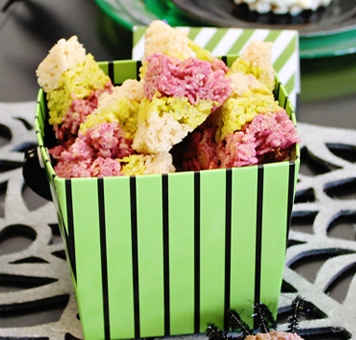 As you know, we just finished up our Halloween Rice Krispies treat challenge. I had this idea to make candy corn inspired treats as part of our table decorations. I think they turned out super cute. The recipe is really just the basic RK treat recipe, but the there is a little technique to getting them in this shape. Of course you could use any color combination that you want, but I picked one that matched our tablescape.
Another couple notes before you start, you will use a lot more coloring than you think. You want the color of the marshmallows to be a lot darker so that there is enough dye to color the treats. You will be making 3 half batches of RK treats. I started with the lightest color first and then moved to the darkest. I'm lazy and I didn't want to have to wash my pot in between batches. Finally, spray a 9×13 pan really well with non-stick cooking spray or line it with parchment paper. Trust me…I had trouble getting it out of the pan.
Candy Corn Rice Krispies Treats
6 tbls butter
6 cups mini marshmallows
9 cups Rice Krispies Cereal
2-3 colors of food dye
Spray a 9×13 pan with non-stick cooking spray or line with parchment paper. Melt 2 tbls butter in a large pot over med-high heat. Stir in 2 cups marshmallows until melted. Add food dye (I used about 20 drops for each color) and stir until well combined. Remove from heat and add 3 cups cereal. Stir quickly to combine. Press into a thin layer on the bottom of prepared pan.
Repeat above steps 2 more times, pressing each layer on top of the previous one. Let cool about an hour and then turn treats out of pan onto a cutting board.
Slice into one inch thick slices, like you are cutting a slice of bread. Then cut each slice into 3 squares (think brownies). Then cut each square diagonally to make the candy corn shape.
Join me on my quest as I discover the most delicious rice krispies treat recipe on the planet!