This post may contain affiliate links. Please read my disclosure.
I grew up making bacon in the microwave, so when I moved out on my own…that's all I knew. Well, I realized there is an even better way to cook bacon (and no, I'm not talking about pan frying it…though that is quite tasty).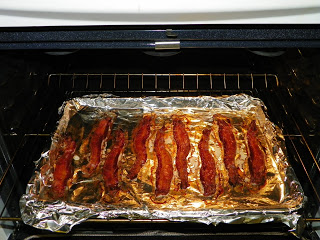 This is not a fast method for cooking bacon, it is actually probably the slowest method. But it turns out great bacon. I'm not sure how this method turns out better tasting bacon, but it does. The "fat" part is soft and almost melts in your mouth while the "meat" part gets crispy. I promise, once you try this method there is no turning back to the microwave.
Okay, so I realize that is not the best looking picture, but everything kept reflecting back and making weird spots on my picture.
Best Bacon Ever
foil
bacon
rimmed baking sheet
oven
Line pan with tin foil. Place bacon on pan, trying not to let them touch (or just barely touch). Put in cold oven and then turn to 400 degrees F. Start checking for doneness around 20 minutes and then every 5 minutes after that (or sooner if it looks really close to being done). It goes from done to burnt very quickly.
Remove bacon from pan onto a plate lined with paper towels to allow some of the excess grease to drain off.
Eat now or save some in the fridge for quick meals (BLTs) or salad/potato toppings through out the week.
Note: I've had batches that cook in 25 minutes and I 've had some take 35 minutes…I'm not sure why, but you don't want to walk too far away from it.