This post may contain affiliate links. Please read my disclosure.
Slow cooker refried beans are incredibly easy to make. This easy refried beans recipe produces creamy smooth beans that can be used as a side dish, or added to tacos, burritos, and other Mexican slow cooker recipes. Whether you love slow cooker meals or you're new to slow cooking, check out my slow cooker user's resource guide for fantastic slow cooker tips and delicious recipes to make in a crock pot.
So y'all know about my obsession with Mexican food. I have the easiest and most tasty recipe for slow cooker refried beans. I can't eat canned beans anymore. With just a little pre-planning, these smashed beans are perfect for taco night, burritos, or as a side dish for a Mexican Fiesta!
Why the pre-planning? They can be made in an electric pressure cooker (Instant Pot), or a slow cooker. No major presoak required, but if you have the time it helps when using the pressure cooker. I will give you cooking instructions for both, though the recipe is the same.
These unfried beans are full of flavor, a tiny bit chunky (that way you know they came from beans), and best of really low in calories and fat because they aren't fried at all  (um…just watch the amount of cheese you add)! Yes, these are actually unfried slow cooker refried beans. I have yet to serve these to someone and have them know that they weren't actually fried.
Unfried Slow Cooker Refried Beans Recipe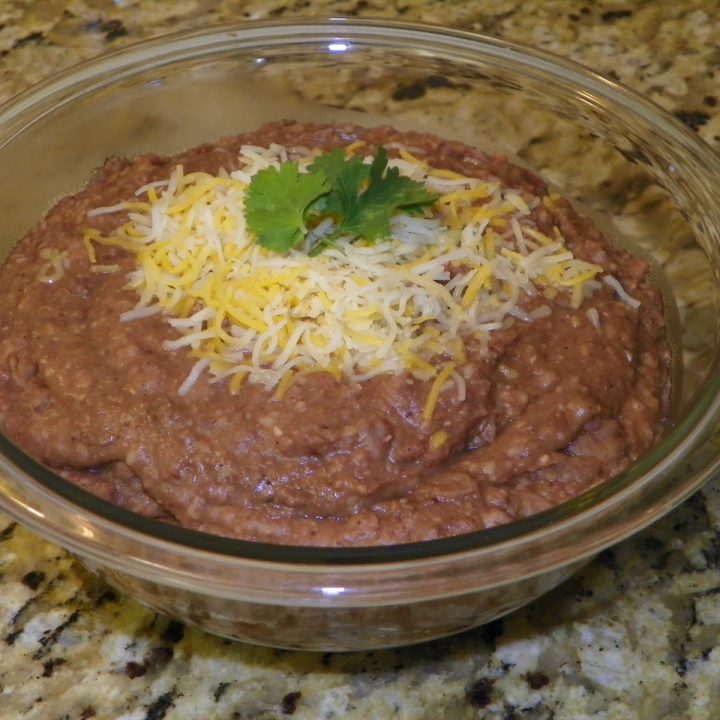 Slow Cooker Refried Beans
Total Time:
8 hours
5 minutes
Smooth and creamy unfried refried beans, cooked in a slow cooker or pressure cooker. Perfect side dish, or add them to tacos, burritos, or other Mexican recipes.
Ingredients
1 onion, peeled and halved
3 cups dry pinto beans, rinsed
1 fresh jalapeno pepper, seeded and chopped*
2 tablespoons minced garlic
2 1/2 teaspoons salt
1 1/2 teaspoons ground black pepper
1/8 teaspoon ground cumin
9 cups water or broth (or a combo of both; I prefer all broth)
Instructions
Place all ingredients into a slow cooker or pressure cooker; stir to combine.
For Pressure Cooker Refried Beans:
Allow to everything to soak for several hours, at least 4-6 if you can. 
Bring to a boil and cook on high pressure for 20 minutes. Use the quick release method and check for doneness. If not soft enough, bring back to pressure and cook again for 10-20 minutes. Unsoaked beans will take at least 40-60 minutes.
Slow Cooker Refried Beans:
Cook on High for 8 hours, adding more water if needed.
Once the beans have cooked, pull out the onion, strain the beans, and reserve the liquid. Mash the beans with a potato masher or puree with an immersion blender, adding the reserved liquid as needed to obtain desired consistency.
Adding a little cheese at the end is good and turns it into a nice bean dip. The beans will thicken a little while cooling (but not too much)
Notes
* Can substitute 1/8 tsp cayenne pepper for the jalapeno
Be sure to follow me on Instagram and tag #amftrecipes when you share one of my recipes….so I can see all the wonderful recipes YOU make!
Connect with Around My Family Table!
Make sure to follow me on social media, so you never miss a post!
Facebook | Twitter |  Pinterest | Instagram | Bloglovin' | Google+ 
Sign up to receive seasonal recipes once a week or
receive an email in your inbox for each new recipe:
Join the Club!
Get delicious recipes delivered straight to your inbox each week! Plus learn how to take back suppertime in your home.

And get started with my NEW Take Back Suppertime 5-Day Jump Start Guide.