This post may contain affiliate links. Please read my disclosure.
While Hubbyman was at work, my daughter and I decided to make potato skins out of our left over potatoes. No one has to know that we actually ate an appetizer food for lunch….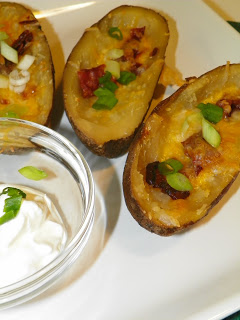 Potato Skins
left over baked potatoes
cheese
green onions, whites and greens, diced
bacon, cooked and crumbled
sour cream
salt and pepper
Preheat oven to 400 degrees. Cut potatoes in half and scoop out a little of the "potato". (This is purely to taste, but since it was a meal for us we left a lot in.)
Season with salt and pepper, top with cheese (about 1 tbls per half) and crumbled bacon. Bake until the cheese is bubbling and the potato is warmed through (about 10 minutes). Remove from oven. Sprinkle with green onions. Serve with sour cream, if desired.