This post may contain affiliate links. Please read my disclosure.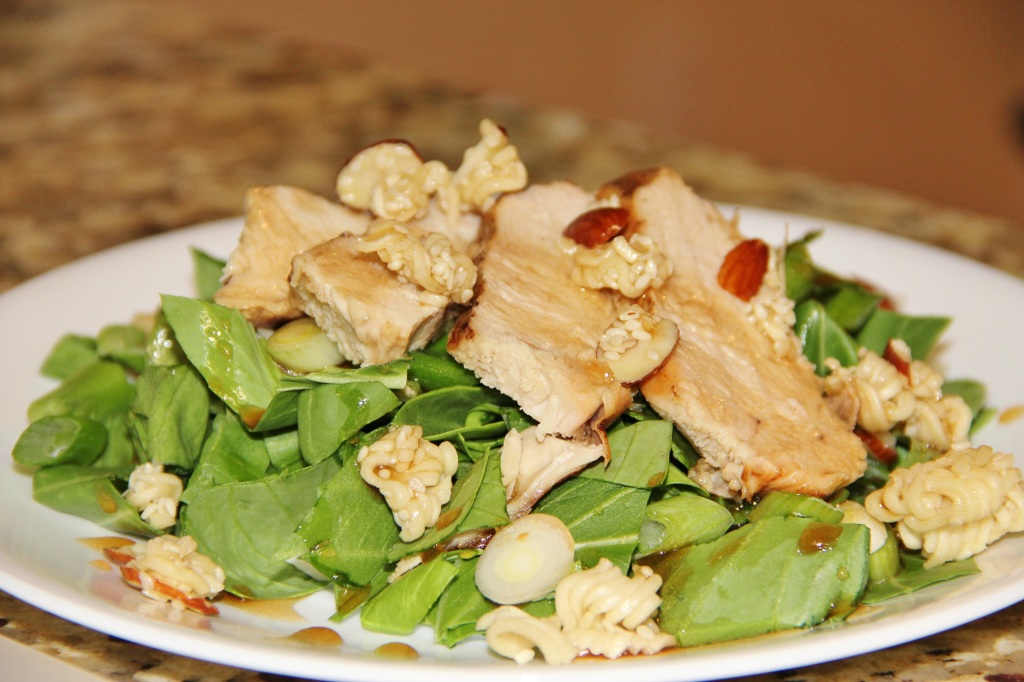 For the last seven and a half years, I participated in a produce co-op…most of the time I run the site that I participate in. It is so much fun and I've met some wonderful people. In fact, some of my closest friends are people that I've met through the co-op. The only bad thing is getting up at 4am to meet the truck. It's worth it in the end since we get a ton of fresh produce for a fraction of the grocery store prices. I love it! I love saving money!
Another plus is that my family has tried all sorts of new fruits and veggies over the years that I would never in a million years buy at that the store. Ya know…the green stuff or the weird shaped thing over there or the ones that are too expensive. We don't always get fun new things to try, but when we do I search for recipes and give one or two a try with the new ingredient.
Bok Choy was a veggie that I was not willing to try. EVER! It looked weird, had a weird name, used in Asian cuisine (which I don't care for), and it was green. However, one fine Saturday morning, bok choy ended up in our produce basket and I was forced into learning what to do with it (besides the dreaded stir fry…really, I hate Asian food…even Americanized Asian food.) I ended up making this awesome salad. It is a little sweet, a little tangy, crunchy, and delicious! I hope you will give it a try.
Bok Choy Salad
Bok choy salad with juicy pieces of chicken breast, ramen noodles and Asian dressing. This salad may become your new favorite bok choy recipe!
Ingredients
4 chicken breasts, boneless and skinless
Chicken Marinade
1/2 cup oil
1/4 cup red wine vinegar
1 tbsp soy sauce
3 cloves garlic, smashed
Remaining Ingredients
1/4 cup butter
1 tbsp sugar
1/4 cup sesame seeds
3 oz uncooked ramen noodles, broken up, (do not use seasoning packet)
3 tbsp sliced almonds
2 lbs bok choy
2 scallions, with tops
Salad Dressing
3/4 cup vegetable oil
1/4 cup red wine vinegar
1/2 cup sugar
2 tbsp soy sauce
Instructions
In a large zip top bag combine chicken, 1/2 c. oil, 1/4 c. red wine vinegar, 1 tbls soy sauce, and smashed garlic. Marinate all day or overnight.
In large pan melt butter and add sesame seeds, sugar, broken ramen noodles, almonds. Brown and set aside to cool. After cooled, break up and set aside in small bowl. (This can be made a day in advance.)
Cook chicken on grill until done. Allow to rest, then slice for salad.
Wash and chop bok choy (smaller is better) and green onions in large salad bowl.
In a small bowl, combine remaining vegetable oil, red wine vinegar, sugar, and soy sauce. Mix well.
Just prior to serving the salad, mix bok choy and ramen noodles mixture. Top with sliced chicken. Drizzle dressing over salad.
Nutrition Information:
Yield:

6
Serving Size:

1
Amount Per Serving:
Calories:

821
Total Fat:

64g
Saturated Fat:

11g
Trans Fat:

1g
Unsaturated Fat:

49g
Cholesterol:

88mg
Sodium:

877mg
Carbohydrates:

33g
Fiber:

3g
Sugar:

21g
Protein:

31g