This post may contain affiliate links. Please read my disclosure.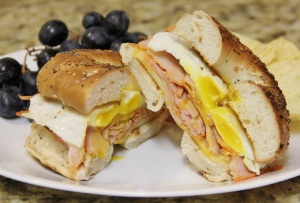 About a month ago hubbyman came home from work around 10pm. It was a long day and supper was long gone, but he was starving. He poked around in the fridge for a few minutes, then I heard pots and pans banging, and finally he joined me on the couch with this new creation of his. It smelled wonderful and looked really good too, so I begged for a bite. OH.MY.GOODNESS…he created a sandwich that I have craved for several weeks now and I finally got him to make it again for me.
It really is so easy, but everything goes together just perfectly. Only 5 ingredients needed! Don't be tempted to substitute something, you need the seasoning on the bagel, the spiciness of the meat, and the runny yolk for this sandwich to be perfect. However, if you can't find the spicy capicola ham, I bet using a regular capicola ham along with some Tabasco would work just the same, although we haven't tested it. I think using a panini press would be perfect for this sandwich, but we don't have one, so we used a toaster. Hubbyman and I agree that this sandwich is perfect for any meal…breakfast, lunch, dinner, or late night snack…it's just perfect!
Capicola ham is sort of like a gourmet salami. It's lightly seasoned, salted, then hung to cure for about 6 months before it is smoked. It's used a lot in antipasto salads, muffuletta sandwiches, and some Italian pizzas. We used Applegate Farm's Spicy Capicola Ham because we had a package left from a recent review I did on their meats.
Capicola Ham and Egg Sandwich
2 everything bagels
6-8 slices spicy capicola ham
2 slices chedder or colby jack cheese
2 eggs
1 tbls butter, divided
Slice bagels in half and toast until desired doneness. On the bottom piece, layer one slice of cheese and 3-4 slices of capicola ham. Meanwhile, melt 1/2 tbls butter in a small skillet over medium heat. Crack egg over hot pan being careful not to break the yolk (cook eggs separately). Cook over medium heat for 1-2 minutes before gently flipping egg over to cook second side for an additional 1-2 minutes. Use care and watch egg closely, the yolk should remain in tact and not over cooked. Place cooked egg on top of ham and then top with the top of the bagel.
*If spicy capicola ham is not available, then use a dash or two or Tabasco when cooking the egg or on top of the ham.
Makes 2.
I entered this recipe in a 5 ingredient, 5 step or less recipe contest. Mmmm, you'll find tasty recipes like these in the HostelBookers.com Backpacker Recipe Guide.