This post may contain affiliate links. Please read my disclosure.
I love breakfast! And anything I can do the night before and then just bake off in the morning is my favorite type of breakfast. My family, for as long as I can remember, has been making a version of this for Christmas breakfast. Well, I like it way to much to only have it for Christmas breakfast, so I make for all the major holidays (Easter, Thanksgiving, & Christmas).
I've changed up my mom's original version just a little. But I would happily eat her version in a heartbeat!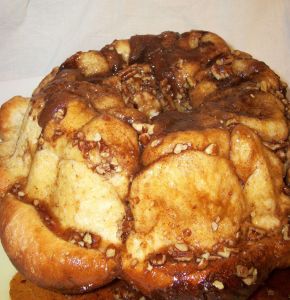 Breakfast Rolls
1 pkg (24) frozen dough balls (such as Bridgeford or Rhodes rolls)
1/2 c sugar
1 1/2 tsp cinnamon
1/2 c chopped pecans
1/2 c brown sugar
1 1/4 sticks butter
Lightly grease a large bundt pan. Layer frozen rolls in pan. Mix cinnamon, sugars, and pecans. Sprinkle over the rolls. Slice the butter in little chunks and place all around the rolls. Set the pan on a baking sheet and place in a cold oven overnight.
In the morning, remove the pan; preheat the oven to 350. Return to oven and bake for 35-45 minutes. Invert pan and let set for a few minutes so sugar syrup covers the rolls.