This post may contain affiliate links. Please read my disclosure.
These babies are super easy, cute, and tasty. The recipe comes from one of the Pampered Chef cookbooks. I don't use all their fancy equipment, but I suppose you could if you wanted to. You can easily make them with your regular kitchen utensils and it is a great way to use up some left over ham.
I've made these several times for various parties and I never get to bring any home. You can also make the filling the night before and bake them off in the morning. They are best eaten slightly warm or room temperature the day they are made.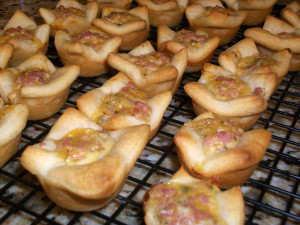 Ham & Cheese Puffs
1 pkg (2.5 oz) ham, finely chopped
2 tbls finely chopped onion
1/2 c shredded cheddar cheese
1 egg
1 tbls snipped fresh parsley (1 tsp dried)
1 1/2 tsp Dijon mustard
1/8 tsp black pepper
1 pkg (80z) refrigerated crescent rolls (or dough sheet)
Preheat oven to 350. Lightly spray two mini-muffin tin pans with non-stick cooking spray. Finely chop ham and onions using a food processor. Add ham, onion, cheese, egg, parsley, mustard, and pepper to a large bowl. Mix well.
Unroll crescent roll dough and press into one large rectangle (or try to find the large crescent roll dough sheet). Cut dough into 24 squares using a pizza cutter. Lightly press one square into each muffin cup.
Using a small spoon, fill each muffin cup with a little of the ham mixture. Bake 12-14 minutes or until golden brown. Remove from pan and enjoy while warm.