This post may contain affiliate links. Please read my disclosure.
I love it when I can figure out a way to make something like a toaster pastry at home with fresh, real ingredients. These turned out so good, but they should probably be in the dessert category and not the breakfast category (despite the marketing of the ones at the store).
Your flavors are as endless as your imagination, but I will share the two that I did. I made one batch with my homemade triple berry jam and one with my homemade pumpkin butter.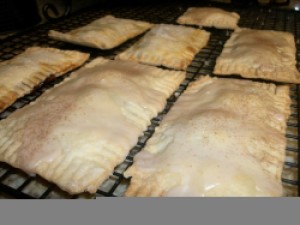 Homemade Toaster Pastries
1 recipe of pie crust, prepared (yes you can use store bought if you must)
1 egg white
Fillings: jam, pumpkin butter, apple (cherry, etc) pie filling, lemon or lime curd
Toppings: sugar, cinnamon sugar, maple glaze (recipe follows)
Preheat oven to 375. Roll out pastry dough just like you would for a pie; however, try to keep it more square or rectangle in shape. Using a pizza cutter, cut your dough into rectangles (about 4×2 inches). You need two pieces for each pastry.
On half of the rectangles, add a couple tablespoons of your filling. Use a little water on your finger to dampen the outer edge of the piece with the filing and then place your second piece of dough on top. Gently press the edges together with your fingers. Use the tines to crimp it shut and make it pretty.
Combine the egg white with a teaspoon of water. Brush the egg wash on the tops of your unbaked pastries. For ones that you want topped with sugar, sprinkle it on now. Transfer to a baking sheet line with parchment. Bake for 10 minutes or until lightly brown. Transfer to a cooling rack. When cooled, top with glaze if desired.
Note: Out of one batch of pastry dough, I got 8 rectangles and 4 mini-square pastries.
Maple Glaze
2 cups powdered sugar
1 tsp vanilla extract
3 tbls pure maple syrup
milk
Combine the first 3 ingredients. Slowly add in milk until it reaches a nice consistency for drizzling on your pastries.