This post may contain affiliate links. Please read my disclosure.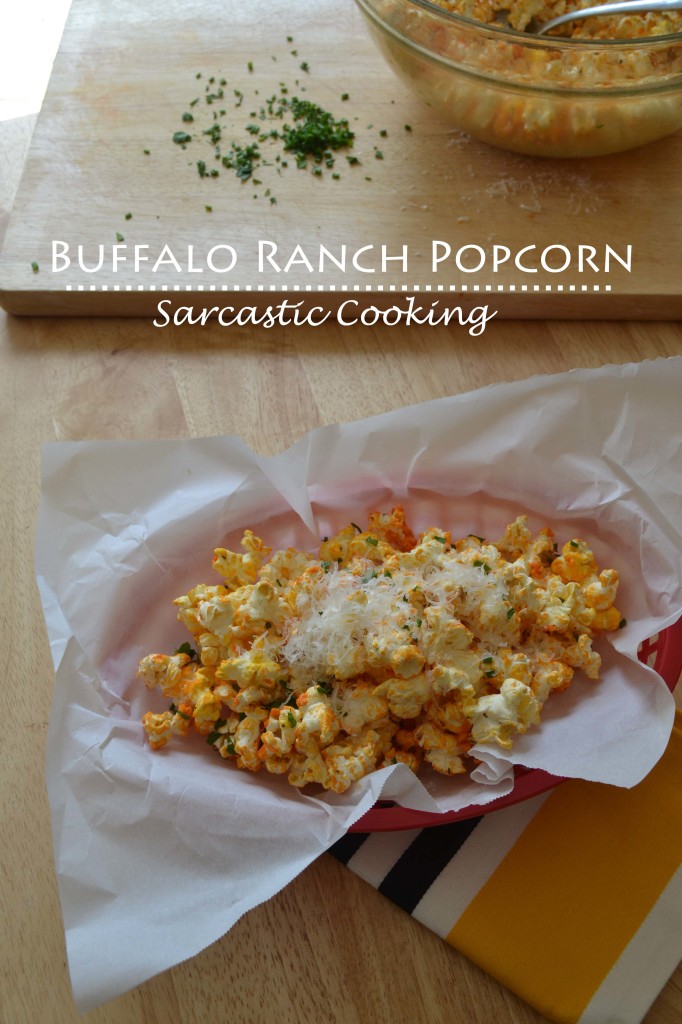 I have been dreaming of this next recipe since the beginning of August when I decided to devote a whole month to popcorn and Stefanie told me what she planned to do. Yes, since August! I will eat anything…and I mean anything that is buffalo-flavored! My mouth seriously waters when I start thinking of my giant bottle of Frank's Red Hot Sauce (ya know, the Costco sized bottle).
I first spotted Stefanie on Instagram…we followed a lot of the same people and so I popped over to check out her Instagram page! I felt instantly connected with her because of all her pug dog photos….love me some pug dog kisses! Anyway, after I got over the pugs, I checked out Sarcastic Cooking. How can you not be drawn in with a tagline like "Dishing up honest food with a dash of humor." Here's Stefanie…..
Hi all you Around My Family Table readers! I am so glad to be taking part in Wendy's month of popcorn recipes! You can ask Wendy, but when she tweeted that she was looking for bloggers to do popcorn recipes, I think I responded in less than five seconds! My husband and I love popcorn!
He really isn't into healthy snacking, so if I buy the simply salted or natural popcorn he is more apt to try that than, let's say, beet chips. Lately, I have been getting bored with the usual late night popcorn snack, so I have been testing out a few variations.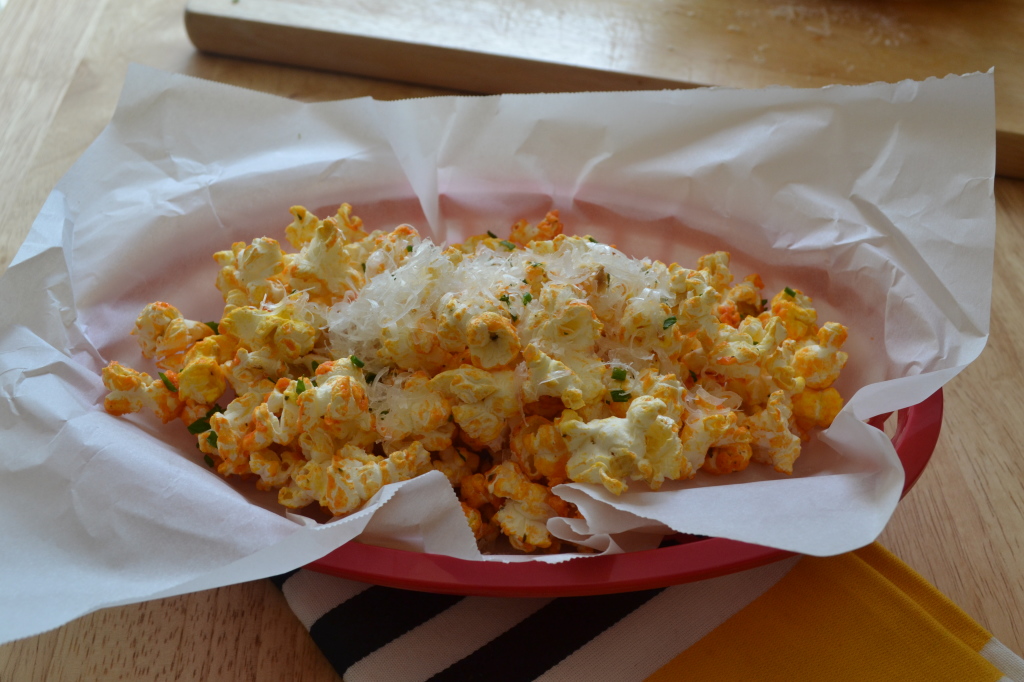 I tried a chili flake and lime zest combo which was great, but you can't get the right amount of chili and lime in each bite. It ends up either too spicy or too limey.
The next concoction I tried was a kind of popcorn trail mix, but I found myself picking out all the M&M's and nuts. That defeats the purpose of a healthy snack.
A few weeks ago, a light bulb went on in my head while cooking one of our favorite dinners, Buffalo Turkey Burgers. Buffalo flavored popcorn!!!
A new favorite snack was born. Buffalo sauce with a dash of ranch dressing seasoning on a bag of simply salted microwave popcorn is a match made in heaven.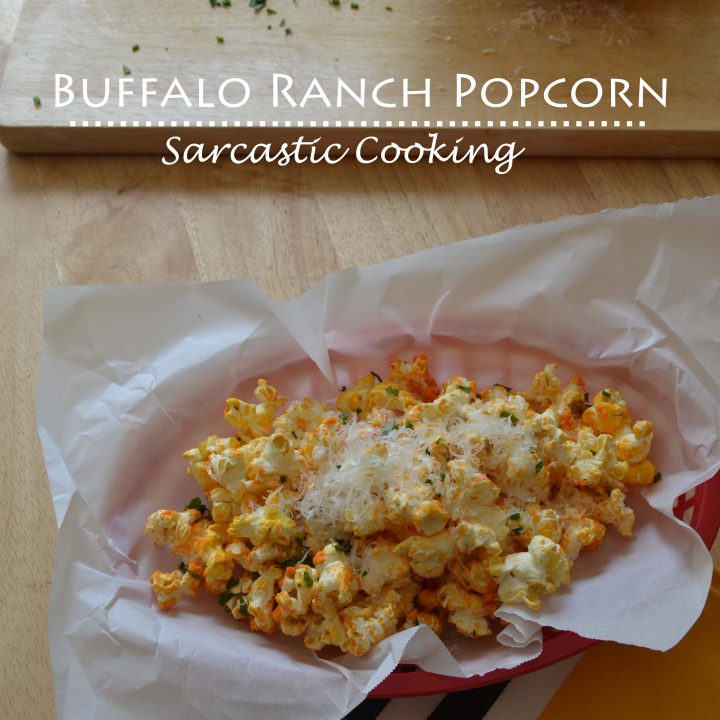 Buffalo Ranch Popcorn
This Buffalo Ranch Popcorn may be the best popcorn treat you'll ever eat! Buffalo sauce with a dash of ranch dressing seasoning on a bag of simply salted microwave popcorn is a match made in heaven.
Ingredients
9 Cups Simply Salted or Plain Popcorn, popped
2 Tablespoons Buffalo Sauce (I used Frank's, but feel free to use your favorite!)
1 Tablespoon Hidden Valley Ranch Dressing Seasoning Mix
1 Teaspoon Fresh Parsley, chopped
1 Teaspoon Fresh Chives, chopped
Pinch of Pecorino Romano Cheese, shredded
Instructions
Pop your bag of popcorn in the microwave as directed on the packaging.
Add the buffalo sauce to the bottom of a large mixing bowl. Pour in the freshly popped popcorn and season the top of the popcorn with the ranch seasonings. Cover the bowl tightly in plastic wrap. Work quickly as to prevent the bottom layer of popcorn from getting soggy.
Shake the bowl to evenly distribute all the seasoning and buffalo sauce. After about thirty seconds of shaking, transfer the popcorn to a serving bowl.
Top with parsley, chives, and cheese. Serve and eat immediately!
Nutrition Information:
Yield:

4
Serving Size:

2 1/4 cups
Amount Per Serving:
Calories:

50
Total Fat:

4g
Saturated Fat:

1g
Trans Fat:

0g
Unsaturated Fat:

2g
Cholesterol:

1mg
Sodium:

385mg
Carbohydrates:

4g
Fiber:

1g
Sugar:

0g
Protein:

1g