This post may contain affiliate links. Please read my disclosure.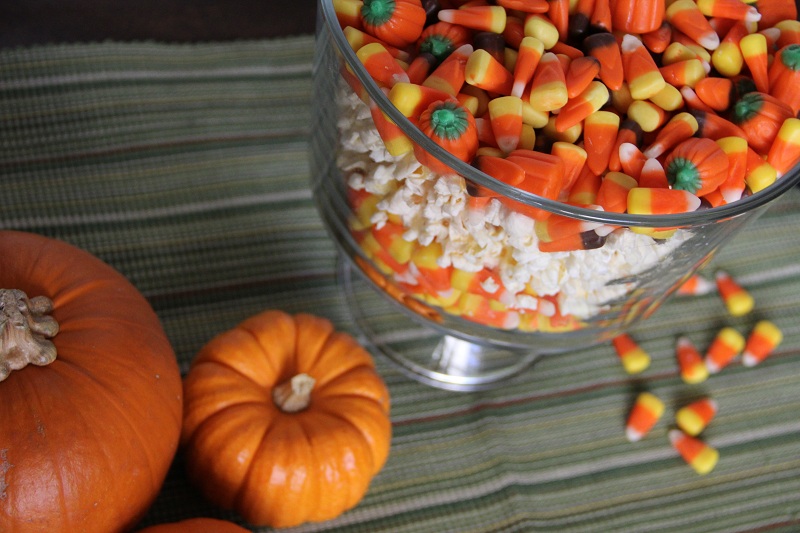 Janice is one of my best friends…we met when my oldest was only 2 months old and she's 8 now. Our kids are great friends too! So, I'm so glad that Janice from Celebrating Family agreed to help me out with this lovely edible centerpiece. I know we don't do dyes over here much, but how cute is this? It would be a great addition to all those fall and Halloween parties that fill our calenders the next couple months.
I am so excited about being able to take part in Around My Family Table's Popcorn Month. I love popcorn year round but it is especially fun in the fall and around the holidays. In our home, we don't just eat popcorn, we decorate and create with it. My kiddos especially love stringing it up on the Christmas tree, but I prefer to use it in a way that results in me eating it.
With all the family gatherings that happen near the end of year, I thought it would be fun to make a simple edible centerpiece that would catch people's eyes and get them snacking. This centerpiece is so simple that the kiddos could even do it on their own. It also creates that perfect pairing of sweet and salty that so many of us love.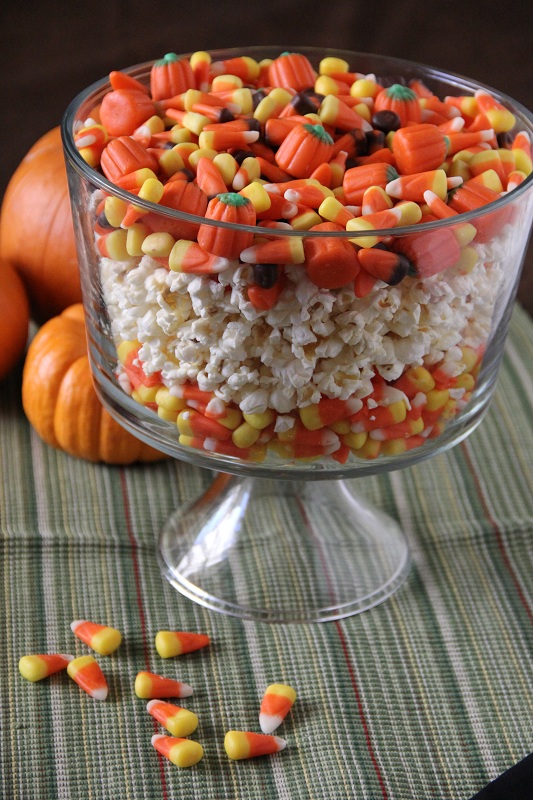 This centerpiece was so easy and so fun to make. The kids just loved it and cannot seem to stay away from it. It adds color to the dinner table and will also fit in with fall inspired tablescapes and place card holders. Have fun with this and don't be afraid to mix it up and add your own favorite fall treats. I am adding Milk Duds to this the next time I make it. Yum!
Many thanks to Wendy for letting me guest post here.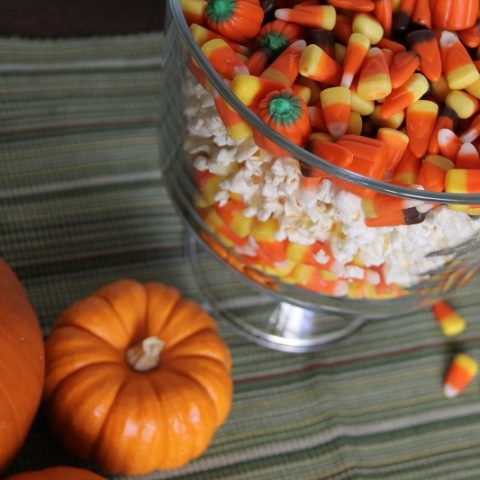 Fall Popcorn Centerpiece
This festive fall popcorn centerpiece is incredibly easy to make and it brings the joy of fall to any tablescape.
Ingredients
6-8 cups fall inspired candy (such as candy corn)
8-10 cups popped popcorn
Instructions
Empty one bag (2 cups) of candy into the bottom of a trifle bowl.
Place about 1/2 of the popcorn on top of the candy. Lightly pack the popcorn down to reduce open spaces where the next layer of candy may fall through.
Pour the next bag of candy onto the popcorn layer.
Repeat steps if you still have room in your trifle bowl.
Nutrition Information:
Yield:

1
Serving Size:

1
Amount Per Serving:
Calories:

248
Total Fat:

3g
Sodium:

5mg
Carbohydrates:

50g
Protein:

8g