This post may contain affiliate links. Please read my disclosure.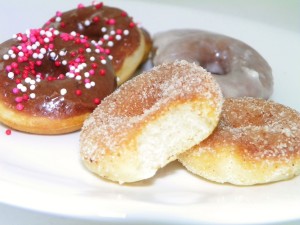 So, I thought that I would share my cake donut recipe after all the drama that inspired over my Hawaiian Donuts a couple weeks ago. Hubbyman bought me the cutest mini donut maker last Christmas so I have been making homemade donuts ALOT! There are a ton of different types of donut makers
from mini to regular sized to even donut holes. My recipe works in just about any of these, so I hope you will give the donuts a try.
Cake Donuts
5 tbls butter, room temp
1/2 cup sugar
1 egg, slightly beaten
1 1/2 cups flour
2 1/4 tsp baking powder
1/4 tsp salt
1/2 tsp cinnamon (or 1/2 cup cocoa powder)
1 cup milk
Combine butter and sugar in a large bowl and mix well. Add in egg and stir to combine. In a separate bowl, add flour, baking powder, salt, and cinnamon; stir to combine. Alternate adding dry ingredients and milk into the sugar/butter mixture.
Fill the pre-heated donut maker with the batter and allow to cook for 3-5 minutes (or as directed by your machine). Take out of pan carefully, as they are extremely hot, and add your topping.
Note: I find it easiest to fill a disposable piping bag with the mixture, snip the tip, and use to fill the machine. However, it is strongly discouraged by the owners manual due to the risk of touching the plastic bag to the hot machine and melting the bag into your donuts. Do what you feel comfortable with.
Toppings:
Cinnamon Sugar: dip donuts in a bowl of melted butter (~3tbls) and then into a bowl of cinnamon sugar (~1/4 cup sugar mixed with 1 tsp cinnamon).
Vanilla Glaze: dip donuts in a combination of 1 cup powdered sugar, 1/2 tsp vanilla, and 2-3 tbls milk
Chocolate Glaze: dip donuts in a combination of 1 cup powdered sugar, 1/2 tsp vanilla, 1/2-1 tsp cocoa powder, and 2-3 tbls milk