This post may contain affiliate links. Please read my disclosure.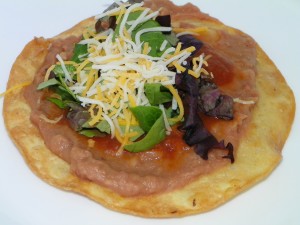 Y'all know already how much I love Mexican and Tex-Mex food! But I hate pre-made taco and tostada shells. They pretty much taste like cardboard to me. So many, many years ago I set out to start frying my own from regular corn tortillas. I do try to make my flour tortillas from scratch, but I haven't tried to make corn tortillas from scratch yet. So I just use regular store bought tortillas.
Frying them is so quick and easy that I don't know you'd want to buy the pre-made ones. The only thing you have to watch out for is the occasional hot grease splatters, but they are few and far between. And wear an apron to protect your clothes.
How to Fry Your Own Tostadas!
oil (veg, corn, or canola)
corn tortillas
In a small to medium fry pan add a layer of oil up to about 1/2 inch deep. Heat on medium high until hot, but not too the smoking point (that would be way to hot).
Test that the oil is hot by placing one end of the tortilla in the oil, you should see a bunch of tiny bubbles form. If it's hot enough, slowly add in the rest of the tortilla. Poke down the tortilla (and any bubbles that form in the tortilla) into the oil using long tongs. Be gentle and patient. When you notice that you can pick up the tortilla without it bending, carefully flip it over. Continue pushing it down. The tostada is done when the center is hard and no longer gives. The color will darken as it cools, so don't worry about it not getting dark enough. Remove from oil and drain on paper towels.
Use this same technique to make taco shells, but instead of letting the first side get hard fold it in half after about 30 seconds of frying. The longer each of the folded sides is in the oil, the harder the taco shell will be. Warning: don't let it go too long or your shell will be impossible to open up when it's time to stuff it.
Tostada Toppings: Refried Beans, Shredded Beef, Chicken, Salsa, cheese, sour cream, Rice, ground beef etc.