This post may contain affiliate links. Please read my disclosure.

Calling all caprese salad lovers! Everything you love about a caprese salad in this delicious cold Caprese Pasta Salad recipe that is perfect for summer. It's a picnic worthy side dish that everyone will love.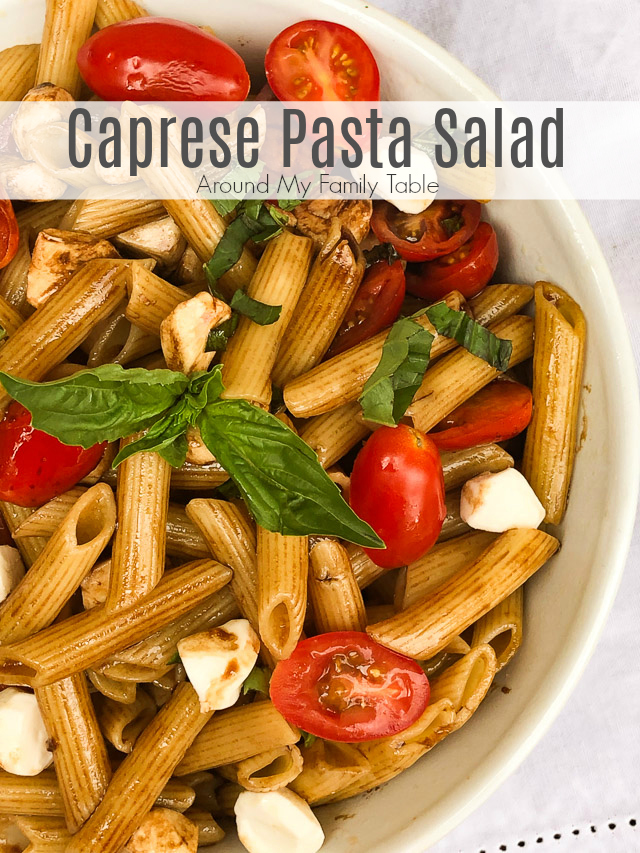 What's not to love about a delicious Caprese Salad? It has tons of ripe tomatoes, fresh mozzarella, and lots of basil that is drizzled with a balsamic vinegar dressing…mmmm…so good! So why not turn it into an amazing Caprese Pasta Salad. All the flavors, but in a more hearty pasta form so it could be a side dish or even a meatless main dish. Plus, since it's a cold dish, it's perfect for summer, picnics, or sitting out by the pool.
The colors are just beautiful in this pasta dish. I just love looking at it before I toss it and it just makes me smile. But then, I get to eat it and it's absolutely perfect!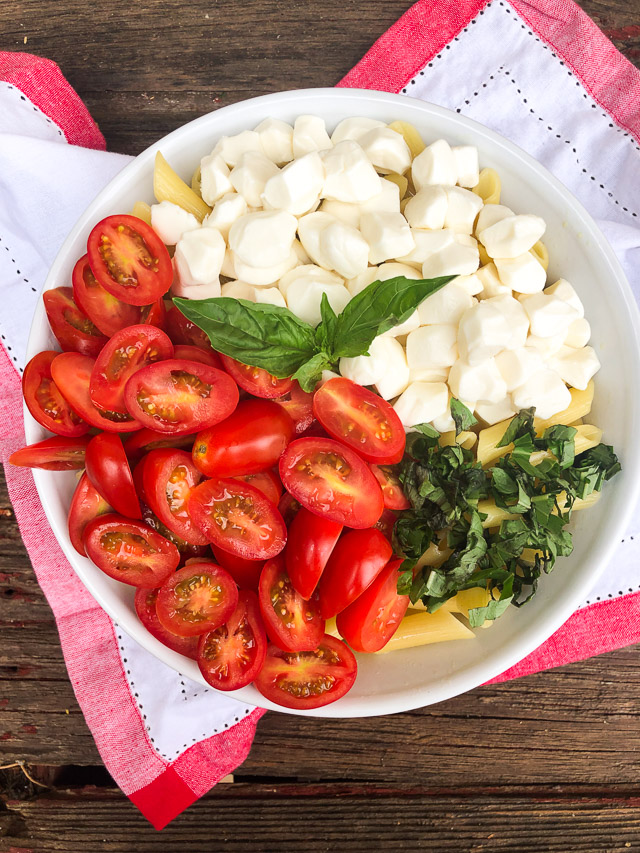 If you'd like to turn it into more of main dish and feel like it needs a bit more, try adding a piece of grilled chicken that's been chilled and diced. However, it really doesn't need anything else to make it a great meal.
How to Make a Caprese Pasta Salad
The key to making a good pasta is giving it plenty of time to chill. But first, bring a large pot of water to a boil. Boil the pasta until it's al dente, then drain well. Toss pasta with a little olive oil (to keep it from sticking) and place in the refrigerator to fully cool.
While the pasta chills, slice grape or cherry tomatoes in half, separate mini mozzarella balls (or cut a large mozzarella cheese ball into small pieces), and gently cut basil into slivers. Mix up the balsamic glaze dressing in a large bowl, season with additional salt and pepper if needed and toss it all together!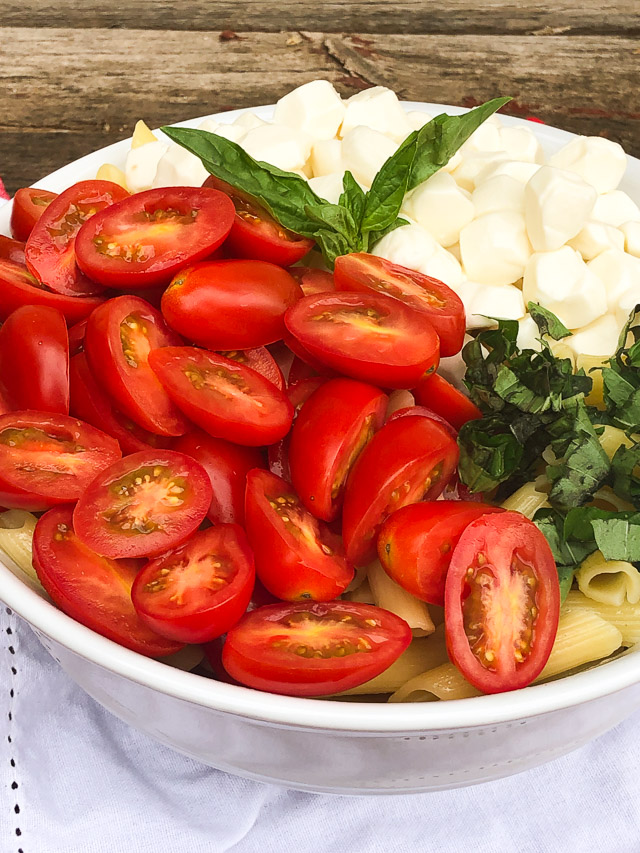 How Much Pasta Salad for a Party
I love easy meals and side dishes for parties. If this is caprese pasta salad is one of the only side dishes, then plan about ½ cup per person. This recipe makes about 16 servings. One recipe is great to take to potluck since there will be lots of other sides.
And great news, you can make it a day in advance of serving for easy party or potluck planning.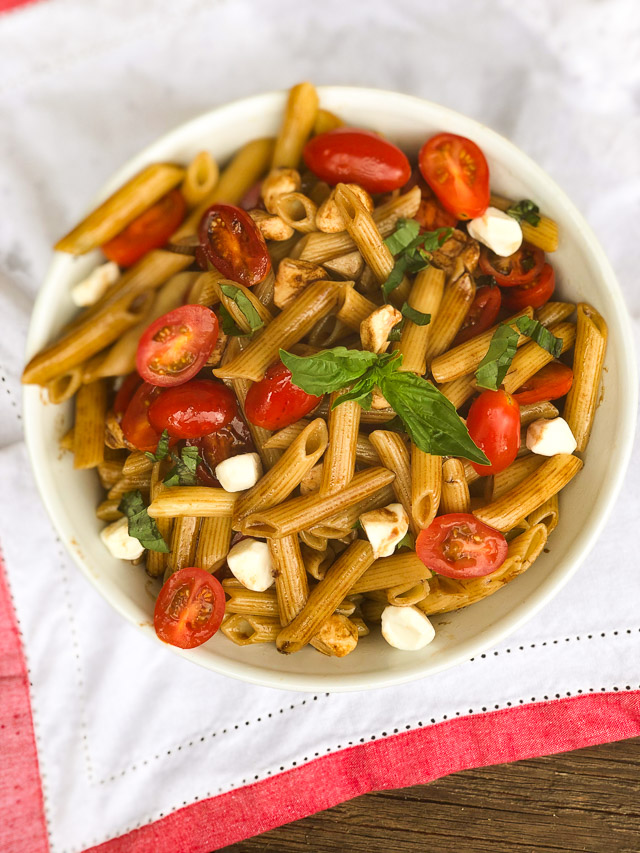 How long will Pasta Salad Last?
This pasta salad has dairy in it, so it can't be left at room temperature for more than an hour or two tops. After that, it just isn't safe to keep. However, if it's been kept cool and/or in the fridge then it will probably last 5 days or so. I always make extra so I have plenty for lunches the following week.
I love quick and easy pasta dishes, don't you? Make sure to check out a couple of my favorites like this Greek Pasta with Feta and this Quick & Healthy Baked Ziti.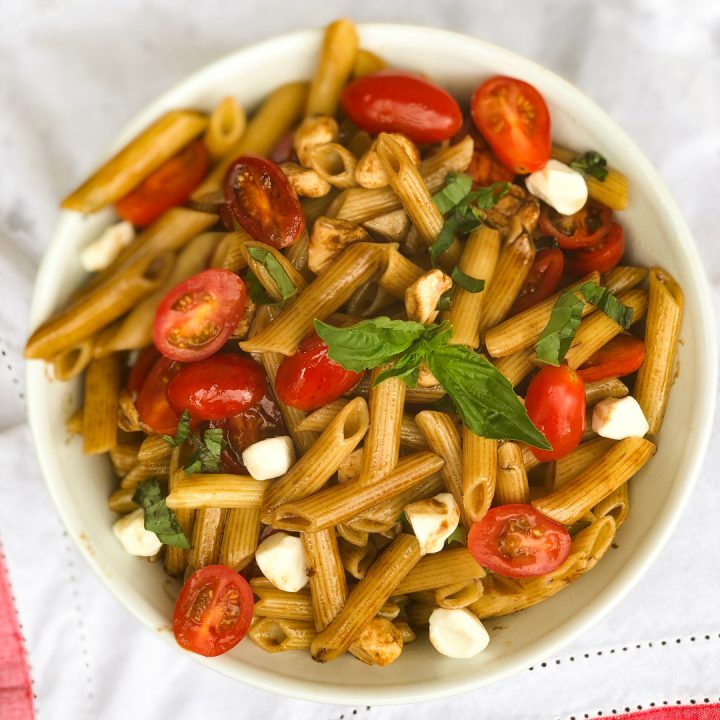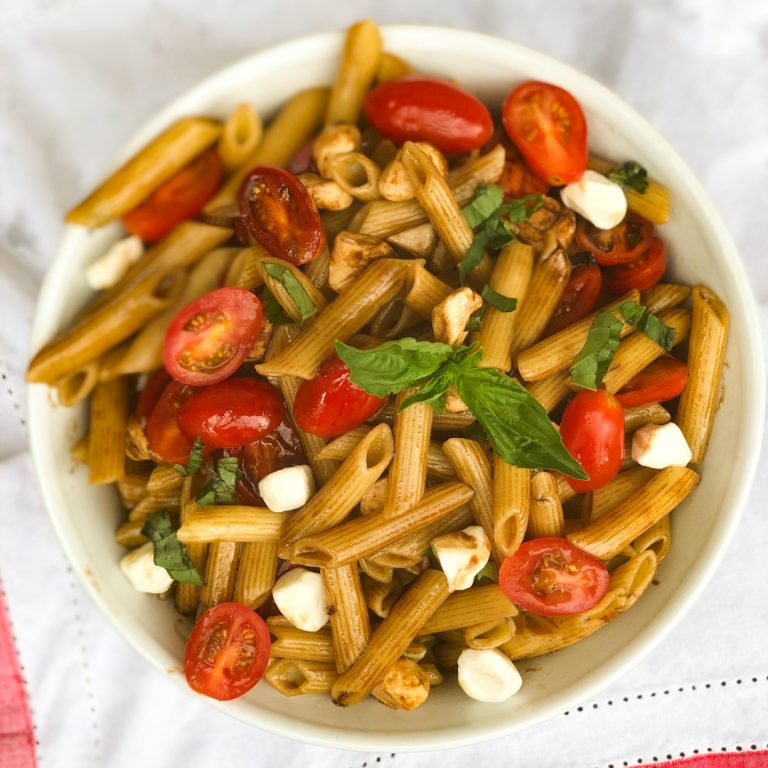 Caprese Pasta Salad
Total Time:
2 hours
25 minutes
Calling all caprese salad lovers!  Everything you love about a caprese salad in this delicious cold Caprese Pasta Salad recipe that is perfect for summer. It's a picnic worthy side dish that everyone will love.
Ingredients
16 oz box penne pasta
2 cups grape tomatoes, sliced in half long ways
2 cups diced mozzarella
1/4 cup finely sliced fresh basil
1/4 cup balsamic vinegar
1/4 cup extra virgin olive oil + 2 tablespoons
1 tablespoon sugar
1 teaspoon coarse Kosher salt
Instructions
*Plan ahead...this needs time to chill.*

Cook penne in a large pot of boiling water until al dente (about 10 minutes). Carefully drain and place in large serving bowl. Toss with 2 tablespoons olive oil to coat and place in the refrigerator to cool.

Cool for at least two hours. Add in tomatoes, mozzarella, and basil. Toss to combine.

In a mason jar or small bowl, combine balsamic vinegar, oil, sugar, and salt. Stir or replace lid and shake well to blend. Pour over pasta and gently toss to coat.
Nutrition Information:
Yield:

16
Serving Size:

1/2 cup
Amount Per Serving:
Calories:

127
Total Fat:

7g
Saturated Fat:

2g
Trans Fat:

0g
Unsaturated Fat:

4g
Cholesterol:

11mg
Sodium:

222mg
Carbohydrates:

11g
Fiber:

1g
Sugar:

2g
Protein:

5g
I love a good pasta salad, don't you? Check out these other pasta salad recipes:
Greek Feta Chicken Pasta Salad
Chipotle Chicken Pasta Salad
Tuna Pasta Salad
Caprese Pasta Salad
BLT Pasta Salad
Pasta Caprese Salad
Orzo Pasta Salad with Summer Vegetables
Broccoli Pasta Salad
Chicken Taco Pasta Salad