This post may contain affiliate links. Please read my disclosure.
Part of my New Year's resolution is to cook more at home….yep even I have trouble getting supper on the table sometimes with hectic schedules. Sometimes it's just easier to grab take out, but we are trying to eat better and eat at home 6 out of 7 nights each week. We love to go out to supper after church on Saturday night, so that is going to be our one night out. Luckily, I've been experimenting with cooking supper in 15 minutes, so there really is no excuse on those crazy nights. Can you believe that this chicken scallopine is ready in just about 15 minutes and that also includes my roasted asparagus.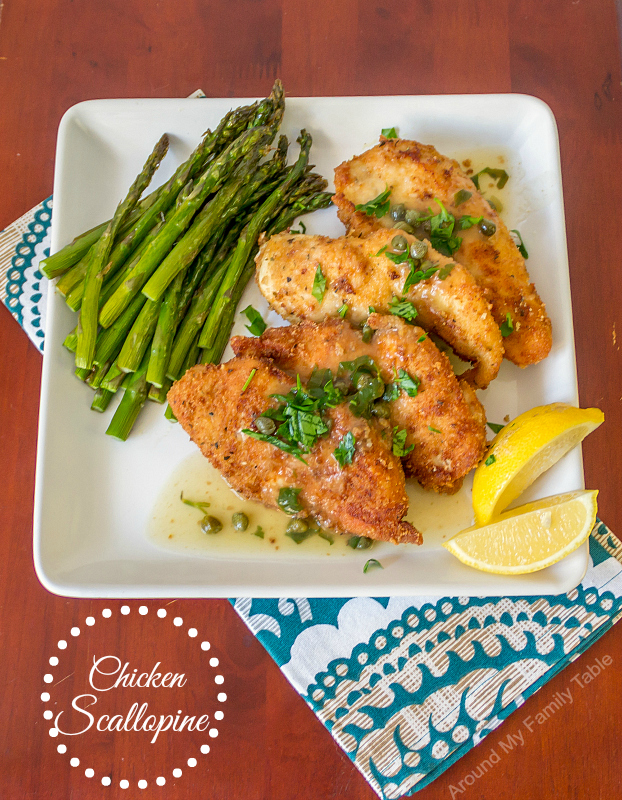 If you've never had chicken scallopine, then you are missing out. Basically, it's a thin piece of chicken that is very lightly breaded and pan fried in a bit of oil. I find that if I make quick dishes like this that my family is really satisfied.
If I only I could get the kids to eat more than two different vegetables…..we either have broccoli or asparagus with every meal. I can get them to peas or corn occasionally but that's about it! How do you get your kids to eat a variety of vegetables? I'd love to hear about it, so leave a comment!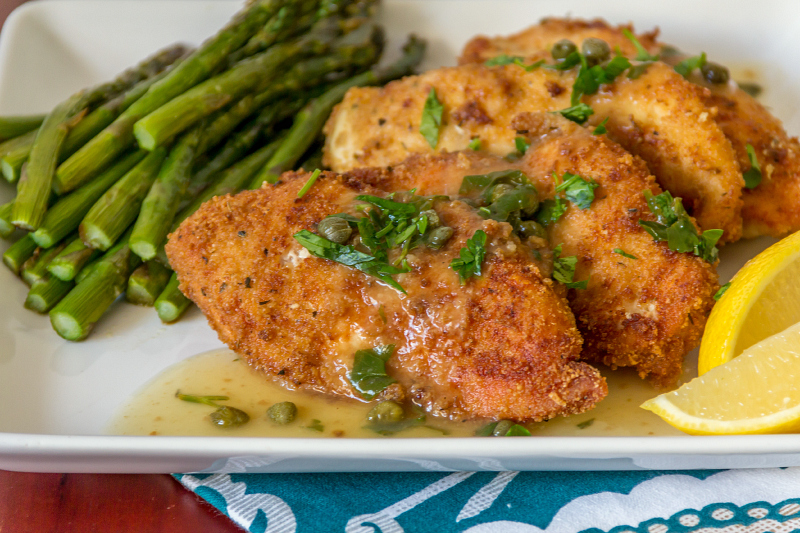 Keep reading after the recipe for some more 15 minute meals from a few of my friends!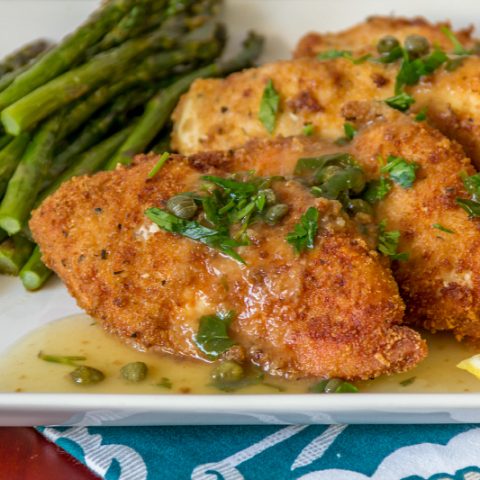 Chicken Scallopine
Chicken Scallopini is an Italian dinner of lightly breaded chicken breast cutlets smothered in a warm lemon-butter sauce. This easy chicken dinner is ready to eat in 15 minutes and made all in one pan! Gluten-free.
Ingredients
1/4 cup canola oil
1/3 cup finely crushed Rice Chex or dried breadcrumbs
1 tsp garlic powder
1 tsp Italian seasoning herb blend
1/4 tsp black pepper
4 (~6-oz each) boneless, skinless chicken breast cutlets
1 cup low-sodium chicken broth
3 tbls fresh lemon juice
1 tsp butter
2 tbls chopped fresh parsley
2 tbls capers, rinsed and drained
Instructions
Heat oil in a large nonstick skillet over medium-high heat.
Combine Chex cereal (or breadcrumbs), garlic powder, Italian seasoning, and pepper in a shallow dish; dredge chicken in breadcrumb mixture. Add chicken to pan and cook 3 minutes on each side or until done. Remove from pan; keep warm.
Drain off any excess oil from pan. Then add broth, juice,and butter to pan, scraping pan to loosen bits. Let simmer for a few minutes to reduce and thicken. Stir in parsley and capers. Serve chicken with sauce over the top. Garnish with lemon slices, if desired.
©Around My Family Table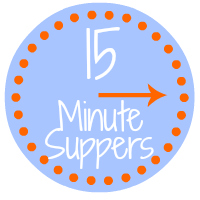 Follow 15 Minute Suppers on Facebook | Twitter | Instagram | Pinterest
and look for the #15MinuteSuppers hashtag too!
Chicken Scallopine from Around My Family Table
Classic Chicken a la King from Monzanita's
Mango Chutney Chicken from Better in Bulk
Thai Chicken Lettuce Wraps from Jen's Journey
Unstuffed Paleo Cabbage Rolls from Confessions of an Overworked Mom
Ranch Clam Chowder from Just 2 Sisters
If you are a blogger and you'd like more info, please check out the 15 Minute Suppers website or ask to join the Facebook group to participate on Fridays…we'd love to have you join us.