This post may contain affiliate links. Please read my disclosure.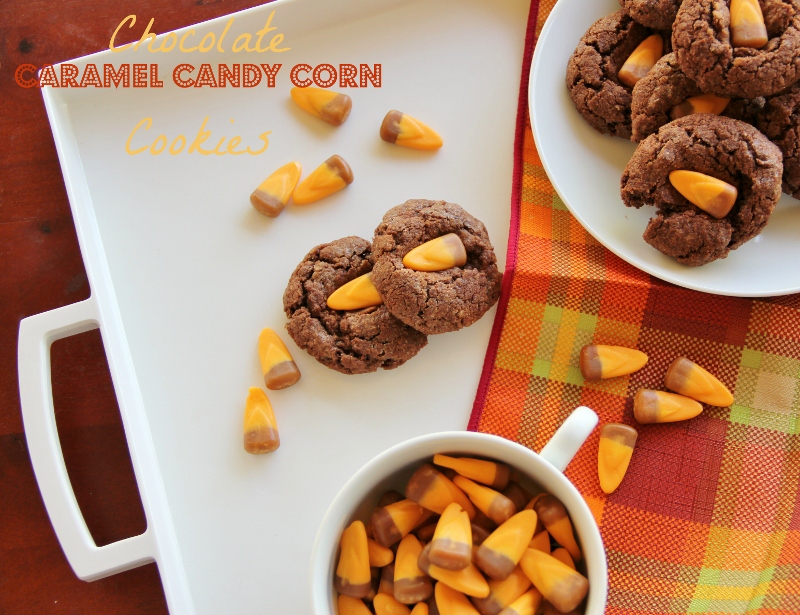 Am I the only one that kills time by wondering the aisles at Wal-Mart? Come on…I can't be the only one. There has to be at least one mom out there that will drag a cranky kid out of the house to aimlessly wander the store to see what's new. Then I keep wandering until lunchtime so I can pump fussy child full of McDonald's so that they can have a cheap new toy and make the day all better. (And then fussy child falls asleep on the way home.) Sigh!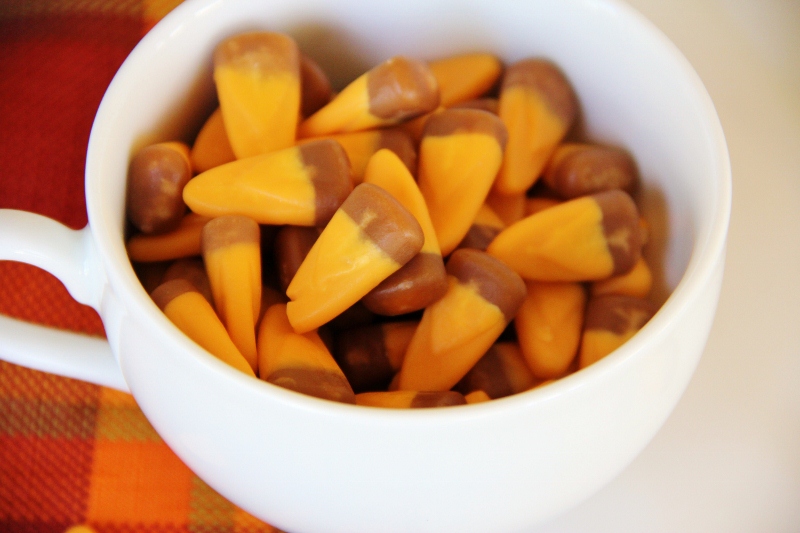 I'm not admitting to this behavior, but if I did I might have found two bags of "new to me" candy corn flavors. I'm the only one in the house that truely loves these tasty fall candies, so I just had to buy them. And I'm so glad that I did…they are tasty little gems! Sweet with a hint of caramel flavor. My first thought was that they would be perfect with a little chocolate.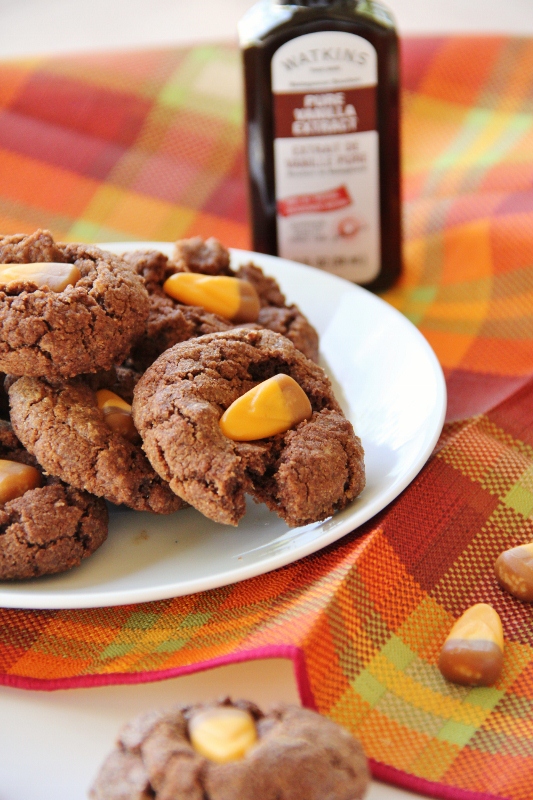 And by chocolate, I mean cookies.
I spent Saturday morning teaching my daughter how to bake cookies. We've done it before, but she's only 8 so we practice baking a lot. We tasted everything, enjoyed some chocolate…ate too may candy corns and smelled the new jar of vanilla. My second favorite smell is opening up a new bottle of vanilla! My top smell…opening up a new can of coffee. Heaven, I tell you. I shared that love with my 8yo as we opened up that new bottle.
As much as I love opening up vanilla, I've never actually owned a gourmet bottle of it. I always just buy the stuff at the grocery store or Costco. It's not bad, but it's not great either! I think I fell in love when I tried JR Watkins Natural Vanilla over the weekend. It smells and tastes like what I remember vanilla smelling and tasting like when I as a kid.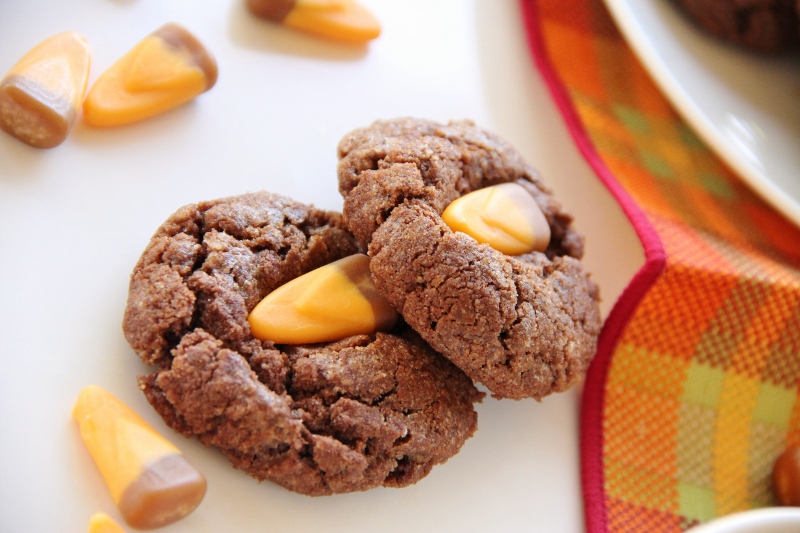 I think my 8yo ate more candy corns than her little tummy could hold. We hardly have candy in the house, much less candy with dye in it. And she was so thrilled that I let her have a few.
The caramel candy corn went perfectly with the chocolate cookie! A little caramel flavor with a lot of chocolate-y goodness!
I hope you can find these candy corns at the store….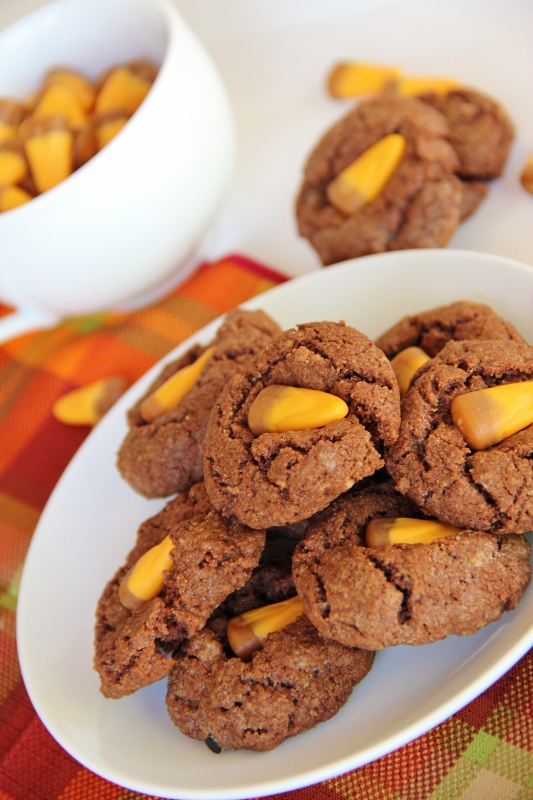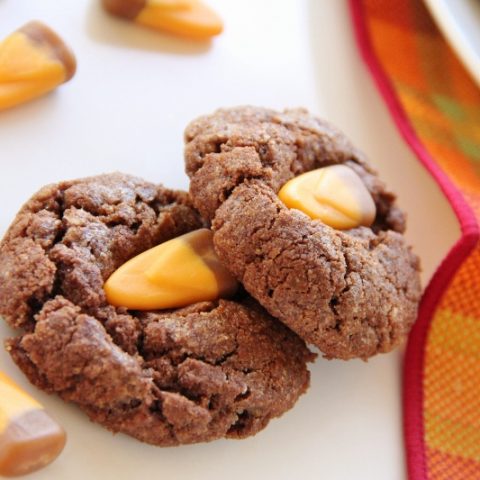 Chocolate Caramel Candy Corn Cookies
Chocolate caramel candy corn cookies are soft and chewy chocolate cookies topped with caramel flavored candy corn.
Ingredients
4 tbsp shortening
1/2 cup sugar
2 large egg yolks
1/4 tsp vanilla extract
1/4 tsp baking powder
1/4 tsp salt
1/2 cup flour
1/4 cup unsweetened cocoa powder
16 caramel candy corns
Instructions
Preheat oven to 350 degrees F. Prepare baking sheet with non-stick cooking spray.
In a medium bowl combine shortening and sugar with a wooden spoon. Add in remaining ingredients and continue mixing until until a dough forms.
Scoop out teaspoons of dough and roll into balls Place balls onto prepared baking sheet about 2 inches apart.
Makes 16 cookies.
Bake until edges are firm and cookies are just set, about 12-15 minutes.
Remove from oven; gently press a candy corn into center of each cookie (note: surface of cookies may crack slightly). Cool on sheet for about 1 minute then transfer to a rack to finish cooling.
Nutrition Information:
Yield:

16
Serving Size:

1 cookie
Amount Per Serving:
Calories:

130
Total Fat:

5g
Saturated Fat:

2g
Trans Fat:

0g
Unsaturated Fat:

3g
Cholesterol:

37mg
Sodium:

78mg
Carbohydrates:

19g
Fiber:

1g
Sugar:

13g
Protein:

2g
Disclaimer: JR Watkins send me some vanilla to try. I was not compensated for my review….all opinions are my own.