This post may contain affiliate links. Please read my disclosure.
So, is there anything better than Nutella?!?!? I think not! Unless it is a cupcake with frosting that is made with Nutella! Where has the Nutella been hiding all my life? I'm now the proud owner of a large pack of Nutella, thanks to my recent trip to Costco. I have been experimenting and the family loves it too!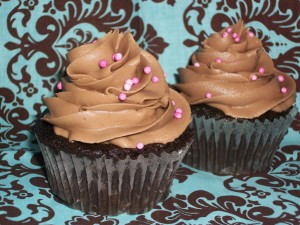 Chocolate Cupcakes with Nutella Frosting
1 chocolate cake mix, prepared as directed for cupcakes
¼ cup shortening
¼ cup butter, softened
2-3 tbls water
1 tsp vanilla extract
1/2 cup Nutella
½ lb of powdered sugar
Prepare and bake cupcakes according to package or recipe. Allow to cool completely before frosting.
Meanwhile, beat together butter, shortening, 1 tbl of water, vanilla, and Nutella until smooth and creamy. Beat in the sugar gradually on a low setting. Scrape sides of bowl as needed. Mixture will be very thick. After all sugar is incorporated, add 1-2 more tbls of water and beat on a medium speed for 1-2 more minutes.
Adding more water will continue to thin the frosting. Add as much as you need until you reach your desired consistency. (Careful though because a little goes a long way.)
Keep bowl covered until ready to use. Leftovers should be stored in the refrigerator (bring back to room temp before using).
After cupcakes have cooled, place frosting in a piping bag fitted with tip 1A or place in a zip top baggie. Pipe onto cupcakes.