This post may contain affiliate links. Please read my disclosure.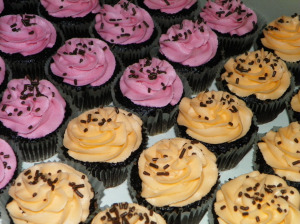 I found this basic recipe over at the Hershey's website. I've had several friends try it and love it, so I had to give it a try. I made just a slight change to the recipe and I LOVE it! This recipe is so easy and uses basic ingredients….there really is no reason to buy a boxed mixed. This recipe makes a very moist and chocolately cake. If you need a bit of a firmer cake for cakes that will be decorated then reduce the oil by a tablespoon or two.
Perfect Chocolate Cake
2 cups sugar
1 3/4 cups all-purpose flour
3/4 cup cocoa powder
1 1/2 tsps baking powder
1 1/2 tsps baking soda
1 tsp salt
2 eggs
1 cup milk
1/2 cup vegetable oil
2 tsps vanilla extract
1 cup hot coffee
Preheat oven to 350°F. Grease and flour two 8-inch round baking pans.
Combine sugar, flour, cocoa, baking powder, baking soda and salt in large bowl. Add eggs, milk, oil and vanilla. Beat on medium speed (using a stand or handheld mixer) 2 minutes. Stir in hot coffee (the batter will be thin). Pour the batter into prepared pans.
Bake 30 to 35 minutes or until toothpick inserted in center comes out clean. Cool 10 minutes; remove cake from pans onto wire racks. Cool completely. Frost with your favorite frosting. Serves 10-12
Options: 9×13 pan and bake 35-40 minutes or 24 cupcakes (line muffin tin with paper baking cup, fill 2/3 full) and bake 22 to 25 minutes.