This post may contain affiliate links. Please read my disclosure.
Yes, I said it…I made candy in my slow cooker. I was skeptical at first and I totally ruined my first batch somehow, but the 2nd time worked perfectly! It was really, really good!
I send half of it to hubbyman's office where it was devoured before lunch and the second half was placed on the tables of a Valentine's Day party…none of it made it's way back to my house. I think that says it all. This will be my new go-to recipe for parties and cookie exchanges.
I wish I could take all the credit for this baby, but I found it over at Just a Pinch.
Beware: makes a TON!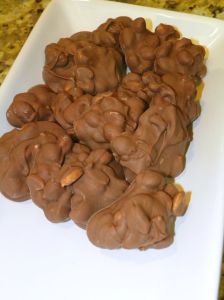 Slow Cooker Candy
1-32 oz jar of roasted, salted peanuts
1-12 oz pkg semi-sweet chocolate chips
1-4 oz bar german chocolate, broken
2-24 oz pkgs white almond bark, broken
Layer ingredients into a 4-5 qt slow cooker in the order listed. Cover and cook on low for about 2 hours (don't peak, unless it starts to smell like it's burning). Turn off slow cooker and leave lid in place while it cools just a little. Chocolate will not look like it's melted, but it is softened. Once slightly cooled, mix everything until well combined. Drop by teaspoonful's onto waxed paper. Makes about 150.
I got into trouble cuz I couldn't find the almond bark and substituted white chocolate chips and almond extract. Don't know why it didn't work….but it didn't. It's best to stick with the recipe unless you feel really adventurous!