This post may contain affiliate links. Please read my disclosure.
Here is the perfect cake to make for your sweetie for Valentine's Day. You have plenty of time to get this done, so there is no reason not to….unless for some odd reason you don't like malted balls. Don't let all the steps scare you….I promise this is easy and you can do it!
I will give you have the details today and the other half on Friday, otherwise this would be one very long post. Although, I will give you a shopping list at the bottom of today's post, so that you can get everything before Friday if you'd like.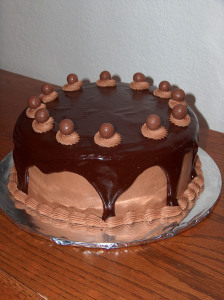 If you make the cake, I'd love you to make a comment and even send in some pics (aroundmyfamilytable@gmail.com). If I get any, I will add to my post on Monday (Valentine's Day).
Chocolate Malt Cake
1 chocolate cake mix, prepared as directed
1 cup malted milk powder
Prepare cake as directed on package and add in the malted milk powder. Mix well to combine. Bake according to package. (Note: spray baking pan extra well with non stick cooking spray in order for the cake to come out nicely.) When cake is done and toothpick comes out clean remove from oven to cooling rack. Allow to cool for 5 minutes and then flip out of pan. This can be made way in advance…several weeks, in fact. For long term storage, wrap tightly in plastic wrap, while cake is still warm and then wrap in foil. Place in freezer. It can last several weeks this way. To use, remove from freezer, remove foil and allow to come to room temp and then remove the plastic wrap. Transfer to a pretty serving dish and prepare to frost cake. Once out, it needs to be eaten within a couple days.
Chocolate Malt Buttercream
1 Cup Butter (room temp.)
1 Cup Shortening
4 Tablespoons Warm Water (4 to 6)
2 Teaspoons Clear Vanilla Extract
1 Two Pound Bag of Confectioners Sugar (minus one cup)
1/2 cup cocoa powder
1/2 cup malt powder
Beat together butter, shortening, 2 tbsp. of the warm water, and vanilla until smooth and creamy. Combine sugar, cocoa, and malt in a large bowl. Beat in the sugar mixture gradually on a low setting. Scrape sides of bowl as needed. Mixture will be very thick. After all sugar is incorporated, add 2-4 more tbsp. of warm water and beat at medium/medium-high speed for 1-2 more minutes. Taste to make sure you like your cocoa/malt flavor.
Adding more warm water will continue to thin the frosting consistency and bring down the sweetness even more. Add as much as you like to get the appropriate flavor and consistency. Be careful because a little goes a long way.
This can also be made several days in advance and stored in an airtight container in the fridge. Bring to room temp, then mix well before using. Leftovers should be refrigerated.
Shopping list
1 chocolate cake mix (and eggs, oil as needed per package)
malted milk powder (found in the asile near the chocolate syrup, I get the Carnation brand…not Ovaltine)
1 cup plus 1 tbls butter
shortening
vanilla extract
1-2lb package powdered sugar
cocoa powder
malt ball candy
8 oz heavy cream
1 oz sugar (~ 1/8 cup)
12 oz chocolate chips (good quality)
Piping bags or zip top baggies
tip 18, if you can get one (many grocery stores carry basic cake decorating supplies)