This post may contain affiliate links. Please read my disclosure.
Oh cheese…how I love thee! Let me count the ways! I always gravitate to any cheese platter…it doesn't really matter what type of cheese, I will eat any of it! And how cute is the cheese platter in the shape of a Christmas tree?!?!? (Keep reading…there are fun cheese facts, a dairy tour, and a fun giveaway at the end.)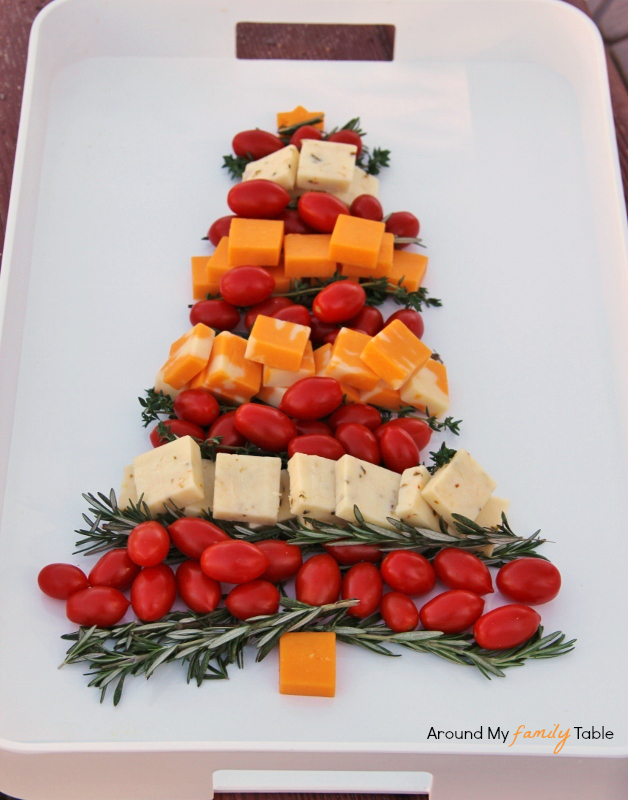 It's so easy and everyone will just love it at you parties this month or on Christmas. We are always snacking before Christmas supper, so this is a great way to get some healthy snacks into everyone, all those fresh veggies and dairy…two things that are usually missing from the holiday table.
Did you know it takes about 2.6 gallons of milk to make 2 pounds of hard cheese? I had no idea it took so much milk to make a pound of cheese.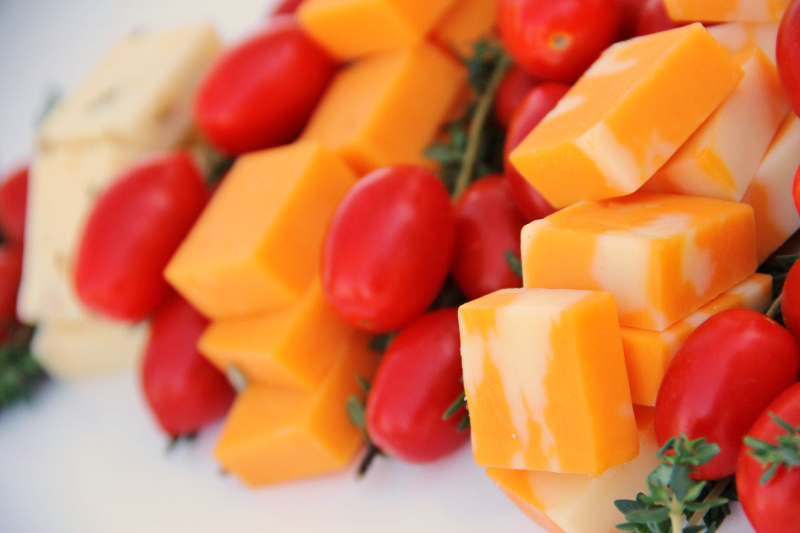 Cheese has it's optimal flavor at room temperature, so set out your platter before guests arrive…just don't leave it out for more than a couple hours. My guess is that this cheese plate will be devoured before you even get the main dish on the table! If, for some weird reason the cheese isn't devoured by supper, then put it back in the fridge and bring it out after supper for a little snack/dessert!
Before we get to how I assembled the cheese platter, I have to share some photos from my recent tour of the Kerr Dairy Farm, which is located just outside Phoenix, AZ.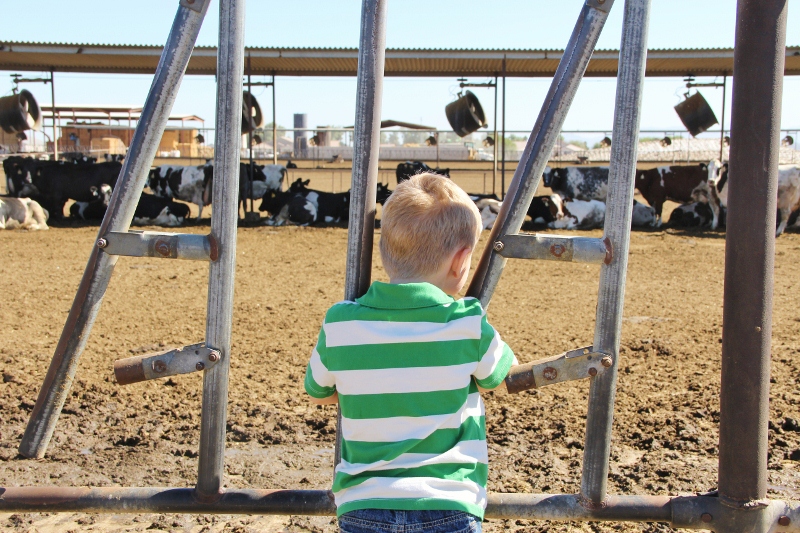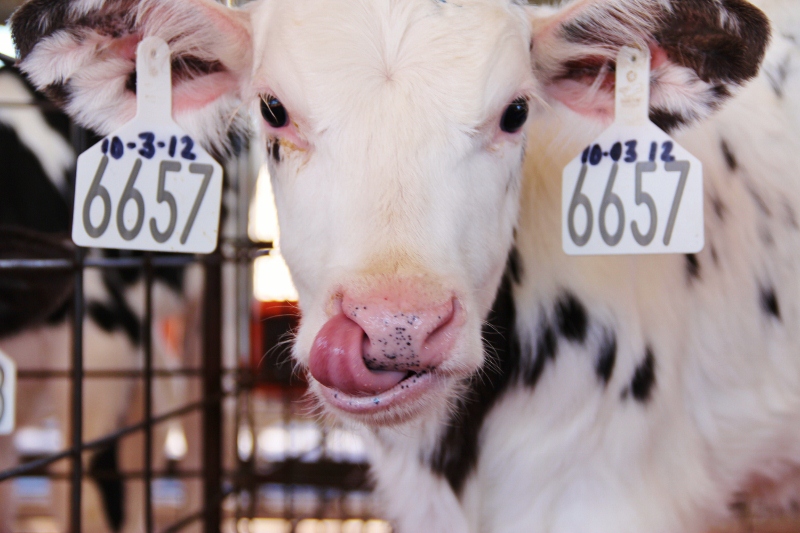 Isn't she adorable..she was just a few days old when I met her. All the newborns were lined up and so happy to see us! What surprised me the most was how clean the farm was. No smell, no mess, nothing!
I was able to get up close and personal in the milking area. The ladies were so calm and "happy" to be there. They really seemed to enjoy their time. In fact they often don't want to leave and at this farm, they aren't forced to leave the area until they are ready.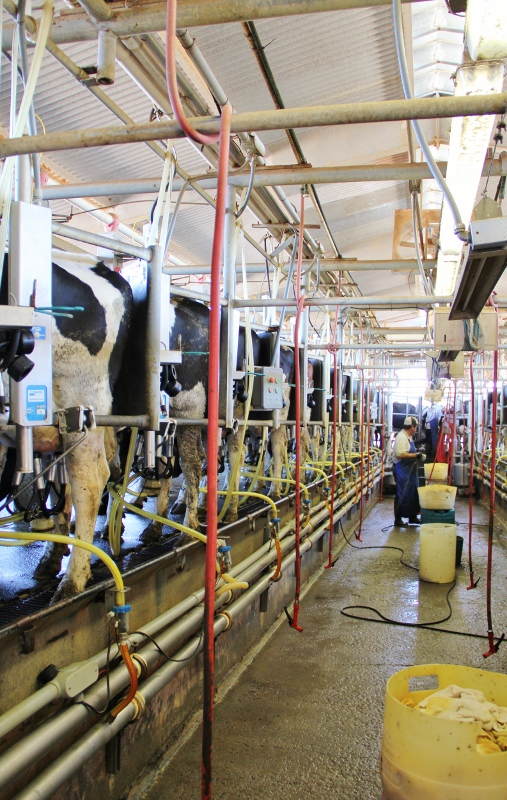 After hanging out here for awhile, I was able to check out the room where they cool the milk and store it. It's cooled from cow temp to fridge temp super fast and then stored in giant tanks. The tanks keep the milk churning so it won't separate. There are so many details that go into running a farm, that I can't possibly share them here.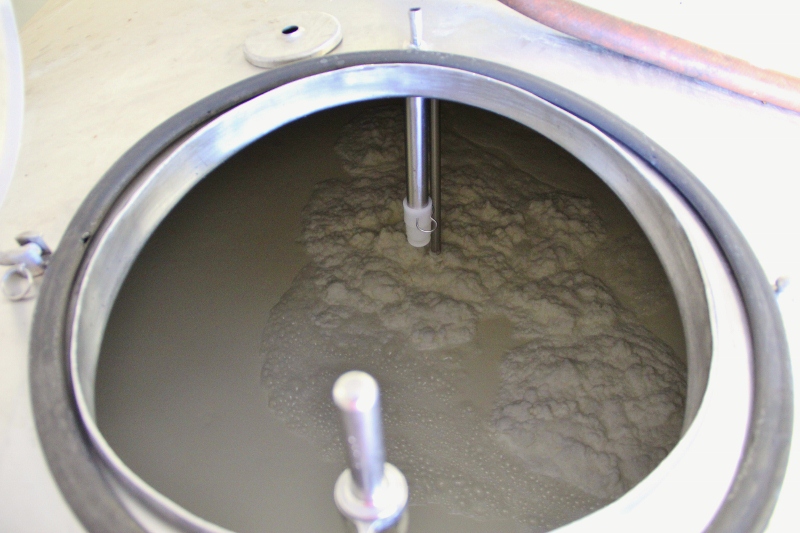 One pretty fascinating fact is that if the cow is sick and on antibiotics, she is not allowed to be in the general herd population. She is isolated and her milk is "pumped and dumped" for 30 days (I might have the exact time frame wrong, but it was close to that). Also, when the general milk is collected by the milk tankers, it is tested for antibiotics and other things. If it's tainted the ENTIRE batch is thrown out.
Had to include this photo…no matter how interesting I found the cows, Little Man eventually got bored and was fascinated by the big trucks moving all the feed around. Boys will be Boys!
Now that we know where the milk comes from….let's move on with the "recipe". You can really use any of your favorite cheeses on this platter, but just make sure you pick different colors and flavors to make it interesting.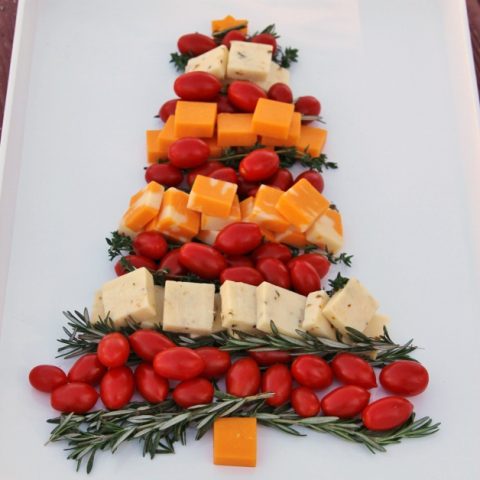 Christmas Tree Cheese Platter
This Christmas tree cheese platter makes the perfect holiday party appetizer!
Ingredients
2 pints cherry tomatoes
16 oz sharp cheddar cheese (block)
16 oz pepper jack cheese (block)
16 oz colby jack cheese (block)
fresh rosemary
fresh thyme
Instructions
Cut cheese into bite-sized cubes.
Alternate rows of cheese and tomatoes. Rows should get smaller as you move up the platter. In between each row of cheese and tomatoes, add a layer of herbs.
Use a cube of cheese at the bottom for a trunk. I also freehand cut a star shape out of one piece of cheese.
Serve with crackers on the side.
Nutrition Information:
Yield:

18
Serving Size:

2.5 oz cheese
Amount Per Serving:
Calories:

300
Total Fat:

24g
Saturated Fat:

15g
Trans Fat:

0g
Unsaturated Fat:

7g
Cholesterol:

71mg
Sodium:

467mg
Carbohydrates:

2g
Fiber:

0g
Sugar:

1g
Protein:

19g
Disclaimer: This post was made in partnership with AZ Milk Producers. All opinions and thoughts are my own.