This post may contain affiliate links. Please read my disclosure.
Growing up I could not get my fill of grilled cheese sandwiches. When I moved out at 18, I ate them A LOT! Easy and cheap! Come…you know you had your own go-to meal in college. What was it? Well, now that I'm the grown up…I hate eating plain ol' grilled cheese sandwiches all the time with the kids. Hubbyman loves them too, but figured out a way to kick them up a notch!
Okay, really, there are 4 cheeses involved in this sandwich, but probably the star of the show is the bread. I am LOVING this Ezekiel 4:9 Sprouted Flax bread. It is super hearty and full of all sorts of health benefits.
I've seen it at the store for years, but it kind of scared me. I wondered if I would like it, even though I love hearty whole grain breads. Would Hubbyman like it? Would the kids like? I finally bit the bullet and I'm so glad I did. It is full of flavor with a very hearty texture. We love it for sandwiches or just toast in the morning. If you like a whole grain bread, then you have to get a loaf (or two) to try!
Let's back to this sandwich! Because the bread is so hearty, it deserved a nice hearty sandwich….one slice of cheese was just not going to cut it. It needed THREE! Three types of cheeses, a large slice of tomato, a couple dill pickle slices, and a homemade dill mayo are the perfect accompaniment to the hearty bread!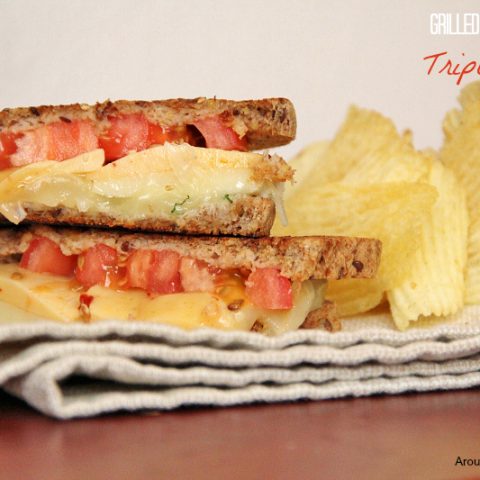 Grilled Triple Cheese Sandwiches
Ingredients
2 slices of hearty bread
1 thick slice of tomato
2 thin slices of dill pickle
1/8 cup mayonnaise
1 tsp fresh dill, finely chopped
1 tsp fresh grated Parmesan cheese
1 slice Gruyere
1 slice Chipotle Gouda**
1 slice Fontina
butter
Instructions
In a small bowl combine mayonnaise and dill (** can't find Chipotle Gouda, then add a couple dashes hot sauce to the mayo).
Lightly, butter one side of each slice of bread and sprinkle butter with 1/2 tsp of Parmesan. Flip bread over and spread insides of bread with dill mayo. On one side add the tomato and add the pickle to the other side. Layer on cheeses. Combine both slices of bread.
Cook in a non-stick skillet over medium heat until bread is golden brown. Flip carefully. Continue cooking until second side is golden brown and cheese is melted.
Disclaimer: I was sent bread to enjoy. I LOVED it, so I had to create a recipe using it. I was not compensated for this post; all opinions are my own!
Join the Club!
Get delicious recipes delivered straight to your inbox each week! Plus learn how to take back suppertime in your home.

And get started with my NEW Take Back Suppertime 5-Day Jump Start Guide.