I came up with this recipe the other day to use up the last of my baked sweet potatoes.  I served it with steak, but it could easily fit in with any Christmas (or Thanksgiving) meal, in fact I'm claiming it to be the best Thanksgiving sweet potato recipe ever!  I had every intention of following a recipe out of the new Costco cookbook because the picture looked amazing; however, once I started I realized that my kids really wouldn't like some of the ingredients.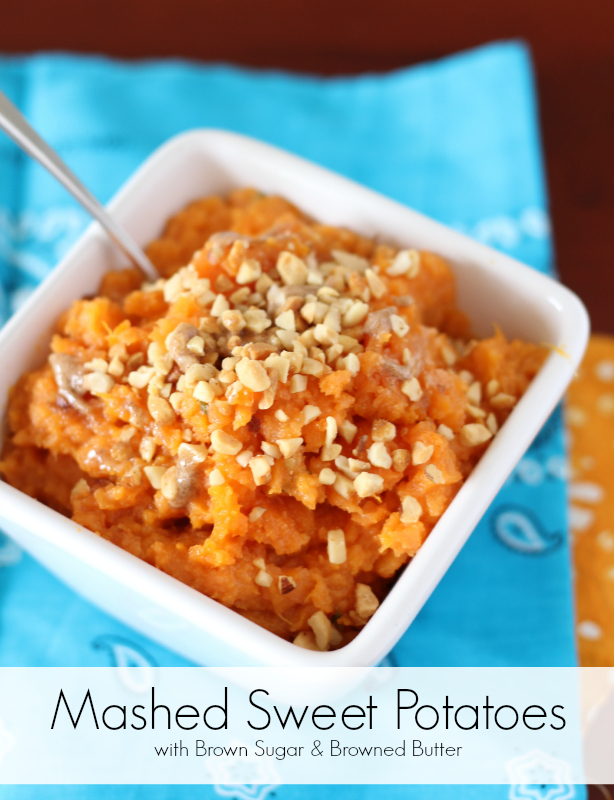 Everyone at the table gave this mashed sweet potato side dish two thumbs up. It's going in my recipe book for sure!  Check out my post for an amazing Restaurant Style Baked Sweet Potato recipe that's perfect for making this recipe for mashed sweet potatoes.
Looking for more Sweet Potato Recipes? I've got a bunch of Easy Sweet Potato Recipes <—- click for more!
The Best Thanksgiving Sweet Potato Recipe EVER
Mashed Sweet Potatoes with Brown Sugar & Browned Butter
2 lbs sweet potatoes, fully baked and slightly cooled
1/2 cup heavy cream
2-4 tbls brown sugar
1 stick butter (divided)
salt and pepper
nuts for topping (your choice: pecans, walnuts, whatever you have on hand)
While the potatoes are cooling, make the browned butter using 5 tbls of butter.  Chop up butter into smaller pieces.  Put into a sauce pan and allow to melt over medium heat.  Once melted, turn up heat to about med-high and allow to start a small boil.  Continue to stir so that the butter solids don't stick or burn on the bottom (burnt butter is not tasty).  Continue stirring.  The butter will start to foam up, keep stirring gently making sure the solids aren't sticking to the bottom and so it doesn't boil over.  After 5-10 minutes, the butter will start to turn a nice caramel color and will start to smell fragrant (it has a very nutty smell and taste when browned).  Be very careful, not to allow the butter to burn (it can go from brown to burnt very quickly).  This sounds hard, but it's not really….I promise. (Like the browned butter….check out my recipe for Pasta with Browned Butter and Mizithra Cheese)
Peel the slightly cooled potatoes and place in a large bowl.  Mash the potatoes using a potato masher or hand-held electric mixer.  Add in cream, remaining butter, and 2 tbls brown sugar.  Use remaining potato water to thin out your potatoes to your liking.  Season with salt and pepper and adjust sweetness with more brown sugar as needed.
Now you have two choices: mix in the browned butter completely or pour it over the top when serving.  I mixed it in (so the kids wouldn't notice it, but next time I will do it when serving).  Either way, the browned butter will give a nice nutty flavor to the entire dish.  Top with chopped nuts.
Join the newsletter
Get Delicious & Seasonal Recipes in your INBOX every week.