This post may contain affiliate links. Please read my disclosure.
My friend called me up last week, raving about what she had just made with her pot of coffee. It sounded so yummy, that I quickly made up a pot for myself. I put the baby to bed and then had a peaceful and tasty coffee house style drink without leaving my house. YUM!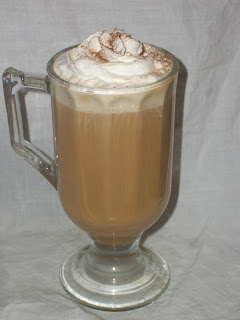 Thanks Brenda for a great idea!
Cinnamon-Vanilla Coffee
1/2 pot of brewed coffee
1/2 a vanilla bean
3 sticks of cinnamon
cream, sugar, whipped cream (opt)
While your 1/2 pot of coffee is brewing, cut one whole vanilla bean in half. (Save half for the next pot.) Split the remaining half in half to expose all the vanilla seeds. Add the split vanilla bean to the pot of coffee along with the cinnamon sticks. Allow them to seep for 5-10 minutes.
Pour yourself a cup of coffee. Add creamer and sugar to your normal liking. Enjoy!
Note: You can easily make this for a whole pot of coffee. However, with whole vanilla beans being so expensive I was trying to stretch it and didn't want to end up wasting any.