This post may contain affiliate links. Please read my disclosure.
I attended a Ladies Holiday Treat Exchange a couple weeks ago, but I didn't want to take the same ol' cookies. I decided on nuts! I love nuts, especially sweet or spicy nuts…so I thought, why not sweet spiced nuts. I promise these are not too spicy…even my mother-in-law who hates spicy foods, loved them.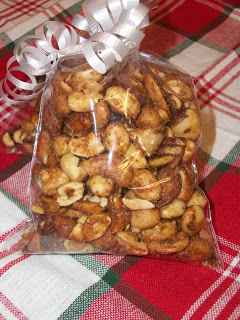 I've had several requests for the recipe already. They are perfect for snacking and not just for the holidays (though they do make great gifts). I found the original recipe in Woman's Day Magazine, but of course I changed it just a tad.
Sweet Spiced Nuts
1 large egg white
1/3 cup sugar
1/2 tsp ground cinnamon
1/2 tsp cayenne pepper
1/2 tsp cumin
1/2 tsp paprika
3 cups mixed nuts (salted)
Preheat oven to 325. Line pan with nonstick foil or spray pan really well with nonstick cooking spray.
In a large bowl, beat egg white and add sugar, cinnamon, cayenne, cumin, and paprika. Mix well to combine. Add nuts and gently toss to coat them.
Spread nuts evenly on prepared pan. Bake, stirring twice, for about 30-35 minutes or until nuts are dry. Transfer to clean foil to cool. Nuts can be stored at room temperature for up to 2 weeks (if they last that long).
Note: These stuck to my pan really bad while they were cooling. They were still totally fine, but just need a little extra work to get them off my pan. Not sure if they would stick to the foil (that wouldn't be a good thing). My pans cleaned up easily with just a quick soak even with all the sticking.