This post may contain affiliate links. Please read my disclosure.
I have been making this salad for years. It's such an easy salad to make for a large group, potluck, or holiday. It's pretty and tastes great too.
I know the thought of Miracle Whip all over your salad will freak some of you out. Just try it! I am not a huge Miracle Whip fan myself, but this salad is tasty with it. NO, you cannot use mayo….Miracle Whip is actually a dressing, so it works perfectly here.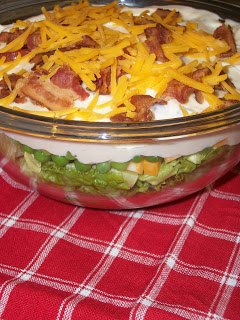 Layered Salad
6 cups iceberg lettuce, shredded
2 cups chopped tomatoes
1 can sliced black olives (3.8 oz)
10 oz frozen green peas, thawed and drained
4 oz cheddar cheese, cubed
1 cup diced red onion
1 jar Miracle Whip (16 oz)
4 slices bacon, cooked and crumbled
2 ounces cheddar cheese, shredded
Layer lettuce, tomato, olives, peas, cubed cheese, and onion in a 2-3 qt serving bowl or trifle bowl.
Spread dressing over onions to edge of bowl to seal. Cover and refrigerate several hours or overnight.
Garnish with bacon and shredded cheese.