This post may contain affiliate links. Please read my disclosure.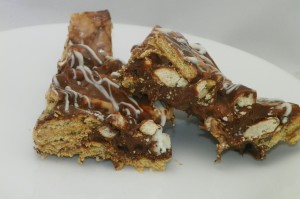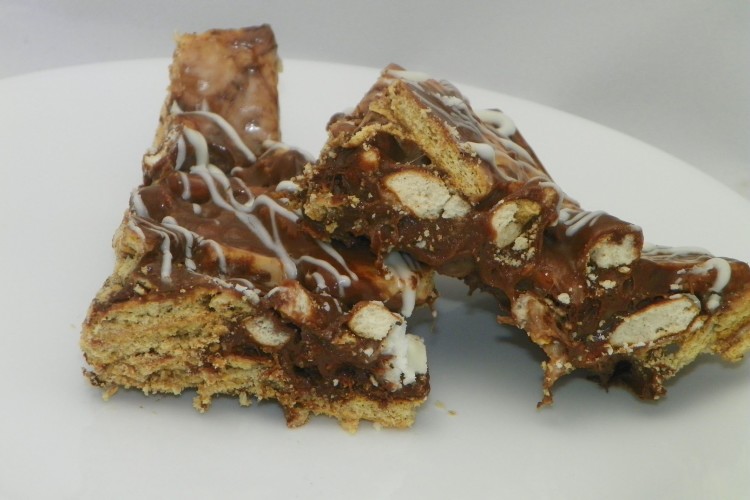 A couple weeks ago, I inherited a box of old recipe cards, books, and clippings from hubbyman's grandmother. She has been busy cleaning out their house and thought I would enjoy them. I'm sure in the weeks and months to come that I will be sharing some of the great recipes I find in the box.
This first recipe was cut from a newspaper, I think. It has no date or source and was probably cut out within the last 10 years or so. I made it one afternoon for as an after school snack for my daughter. I had all the ingredients, so it was perfect and an extra special treat for the kids.
Tomorrow is the last day to enter my Emile Henry giveaway (value over $175). Have you entered yet?
Cowboy S'more Squares
4 cups Honey Graham cereal (I just used broken graham crackers)
2 cups thin pretzel sticks, broken in half (use what you've got on hand)
1 cup milk chocolate chips
1/3 cup butter
2 1/2 cups mini marshamallows
Prepare a 9×9 inch pan with non-stick cooking spray. In a large bowl, combine cereal (or crackers), pretzels, and chocolate chips. Set aside.
In a large saucepan, melt butter. Stir in marshmallows and continue stirring over low-med heat until they are melted.
Remove from heat and pour over cereal mixture and stir until everything is well coated. Press cereal mixture evenly into prepared pan. Cool completely. (I added a drizzle of white chocolate to make it more interesting, but this is totally optional.) Cut into squares.