This post may contain affiliate links. Please read my disclosure.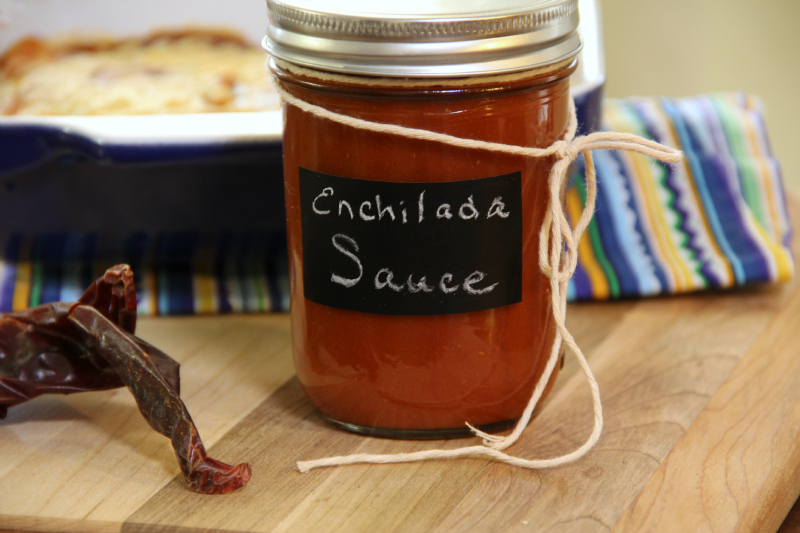 To celebrate Cinco de Mayo, I thought I would share one of my favorite red enchilada sauce recipes. Once you taste real sauce, you might not ever buy that yucky canned kind again. There are so many nasty things in the canned sauce…there is no need for something so simple to have an inch worth of ingredients. YUCK (okay, I will get off my soap box now).
I hope you will take some extra time and try this recipe. You can make a big batch and freeze it, so it is more worth your time.
Red Enchilada Sauce
8 oz dried mild red chiles (note: the smaller the chile the spicier it is)
1/2 onion, chopped
4 garlic cloves
1/4 cup vegetable (or chicken) broth
1 tsp sea salt
Cut the stem off of each chile and de-seed if desired (yes, you probably desire the seeds removed). Soak the chiles in HOT water for 30-40 minutes or until they are soft and pliable.
In 2 batches, place half of each of the chiles, onion, garlic, broth, and salt in a blender. Blend adding additional soaking water as needed to get to proper consistency. Combine both pureed batches into a sauce pot and bring to boil. Remove from the heat immediately, otherwise you risk it turning bitter. If you want a smoother texture, feel free to strain the sauce (note: I like it the way it is).
Can make it up to one day ahead and store in the fridge. Otherwise freeze the sauce until you need it.