This post may contain affiliate links. Please read my disclosure.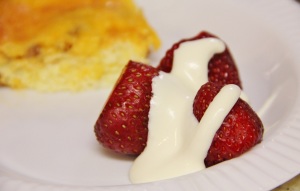 This dip is amazing! It is only 3 ingredients (and soooo not healthy)! But sometimes ya just need a guilty treat and this would be it. Be warned, though, this makes a ton of dip. Feel free to halve the recipe or make sure you are taking it to a potluck or something.
I couldn't get a great picture of the dip, so I just drizzled it over my plate of strawberries. I barely got the picture before little hands started grabbing at my plate.
We also enjoyed this dip with some crepes the other day too.
Creamy Fruit Dip
1 16oz tub cool whip, thawed
1 3.5oz package instant vanilla pudding
1 21oz container Cream of Coconut (found in the liquor section)
Combine everything in a large bowl. Keep refrigerated until ready to enjoy. Serve with fruit.