This post may contain affiliate links. Please read my disclosure.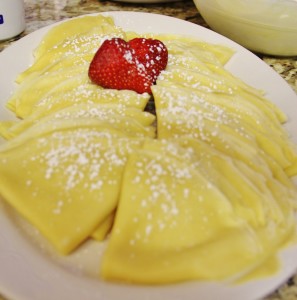 I'll admit it now…I've never made crepes. They look so intimidating. I'm mostly worried that they will stick to the pan and just be a big ugly mess.
My friend Jen, brought these to my Eggland's Best Plate Date on Monday. They were so good and she assured me that they were easy to make. So she shared her Grandma's recipe with me. I made this a couple days ago and they were super easy and just as good as her's.
Crepes
1 1/4 cup milk
1 cup flour
pinch of salt
2 tbls sugar
1 tbl vanilla
3 eggs
Add all ingredients to blender, blend until smooth and no flour lumps are visible.
Preheat a large non-stick pan on medium heat. Spray with non-stick spray/oil. Holding pan just above the heat, begin swirling wrist while pouring a small amount of batter into pan to form a thin, even coat of batter over the entire bottom of the pan. Place pan on heat and cook for 30-45 second on first side, then flip and cook for 10 seconds on final side.
Tip: The crepe is ready to flip when the surface loses it's shine and batter no longer runs.
Keep crepes warm on a foil-covered plate in the oven until all batter is cooked or serve each one straight from the pan with Nutella, butter & powdered sugar, or fresh strawberries!