This post may contain affiliate links. Please read my disclosure.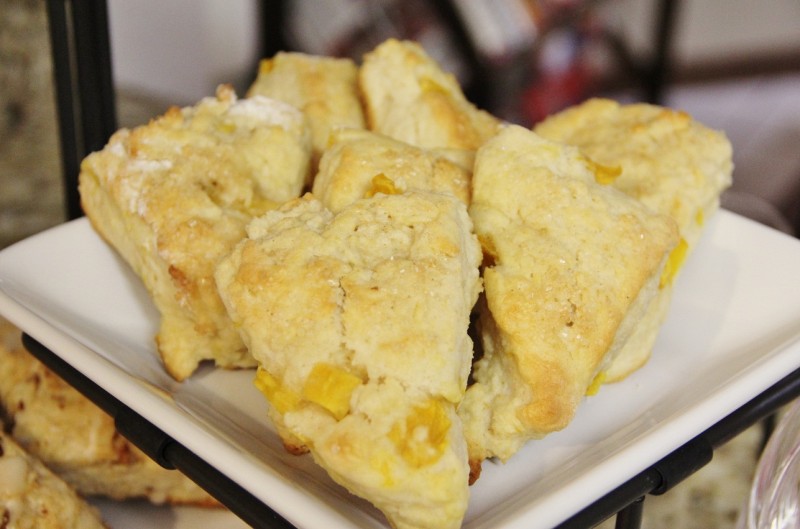 I think I mentioned, a couple weeks ago,that I have been playing around with some scone recipes recently and this is another one that I really loved. I made them the night before and they were still really good the next day. The recipe is just about the same as my Blueberry Scones that I share a couple weeks ago. Next week, I will be sharing my Maple Pecan Scones with a Maple Glaze. YUM!
Mango Scones
2 cups AP flour (plus more for kneading)
1/3 cups sugar
1 tbl baking powder
5 tbls cold butter, cut into to small cubes
1/2-3/4 cup half and half (whole milk or heavy cream work well too)
1 cup diced mango (fresh or frozen)
turbinado sugar, opt
Preheat oven to 400. Prepare a baking sheet with non-stick cookie sheet. In a medium bowl, combine flour, sugar, and baking powder. Cut in butter with pastry blender or fork until crumbly. Stir in half and half. Gently fold in diced mango.
On a lightly floured surface, knead dough 5 or 6 times. Roll dough into a 1/2-inch thick circle.** Cut into eight triangles (I use my pizza cutter). Place dough triangles on prepared pan. Brush tops with a little half and half and sprinkle with turbinado sugar (or granulated sugar).
Bake for 15-20 minutes or until golden brown.
**Or divide dough in half and make two smaller circles. Cut into 8 triangles each. This makes a nice size for taking to a brunch potluck or if you are having a lot of other food.