This post may contain affiliate links. Please read my disclosure.
This gluten & dairy free Decadent Lava Cake is the perfect dessert for Valentine's Day.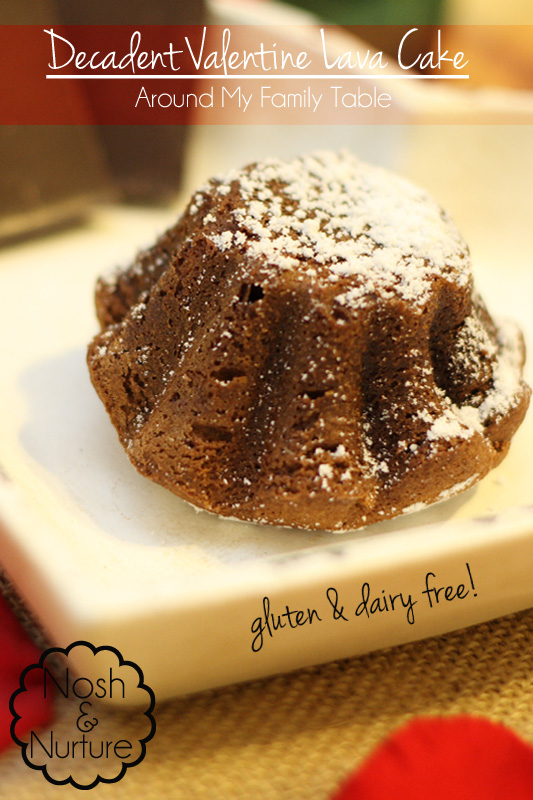 I have to admit I'm one of those girls that adores Valentine's Day. Ok, so I adore any holiday and any excuse to bake, host or give presents. But Valentine's Day is one of my favorites. While I believe we should give love every day of the year, it's always fun to have an excuse to splurge on chocolate, cover your house in fresh blooms and treat yourselves to a guilt-free date night.
Each year I try to cook up a special dinner and bake something delicious that is gluten-free and dairy-free, (and when I can, refined sugar free) because it's hard to go out with a limited diet. My husband and I usually stay in and have a picnic by the fire and then go out for a date night to do something fun like catch a movie, go to the arcade or check into to a local resort for a weekend staycation. For tips on how to have an affordable getaway, check out my post on budget-friendly retreats.
I wanted to bake something really decadent this year that was special and not an everyday dessert. This amazingly delicious gluten and dairy free lava cake has a delicious and warm ooey-gooey surprise inside and looks extra fancy when topped with a light sprinkle of confectioners' sugar.
Serve warm with a side of dairy-free vanilla ice cream or a glass of bubbly champagne.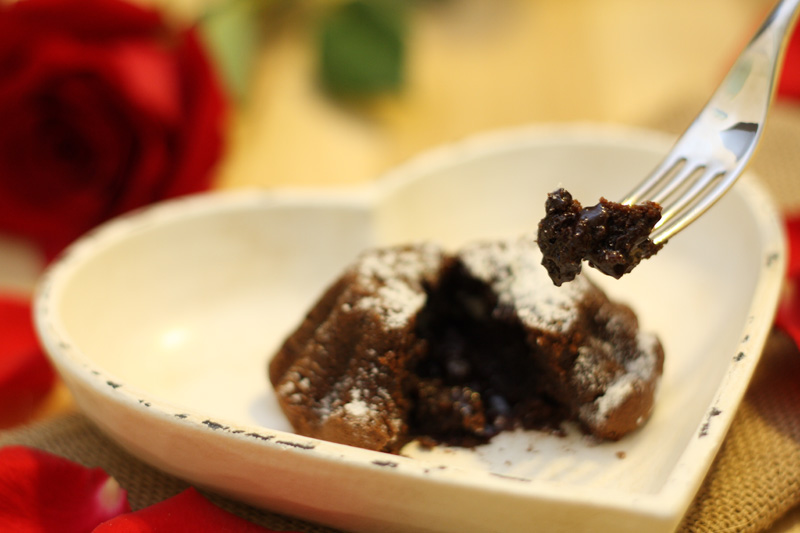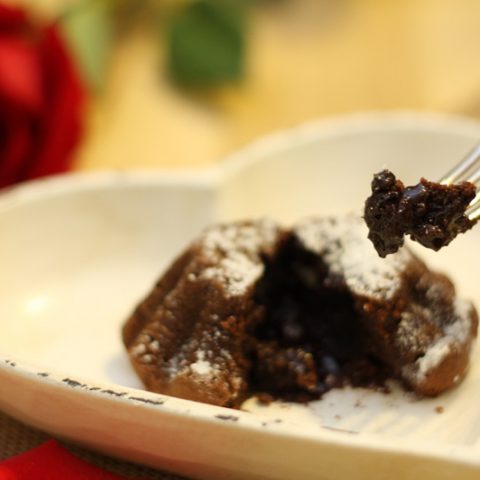 Gluten-Free Dairy-Free Chocolate Lava Cake
This gluten-free and dairy free decadent Lava Cake is the perfect Valentine's Day dessert.
Ingredients
4 oz. dairy free dark chocolate
2 tbsp. honey
1/2 tsp organic vanilla extract
2 eggs
1 tbsp. almond flour
3 tbsp. coconut oil
1 tbsp. sugar-free cocoa powder
dash of sea salt
Instructions
Preheat oven to 375 degrees. Lightly grease four small ramekins with dairy-free butter or coconut oil spray and give a light dusting with cocoa powder. Melt dairy-free chocolate with coconut oil in a small sauce pan and set aside.
In a medium sized bowl mix eggs, honey, vanilla and sea salt. Add almond flour and cocoa powder and fold ingredients together until smooth. Divide the batter among the ramekins and place on a baking sheet. Bake for 10-12 minutes and serve warm.