This post may contain affiliate links. Please read my disclosure.
I love making my own Easy Spicy Peanuts at home. I've been doing it pretty much since I learned to cook in elementary school. They are a just a little spicy and pack a mouthful of intense flavor. So, skip the convenience store spicy peanuts and make up a batch.
In just a few minutes, with ingredients you probably already have in your pantry you can make up a delicious batch of spicy peanuts. I make these nuts every winter to give as gifts and to just have around the house for when unexpected guests drop in. We always have tons of people in and out of the house during the winter and holiday season, so this is something I can make a double or triple batch of and just have waiting in the pantry for when I need them.
I always make up a big batch before going on a road trip too…my mom used to make these for us when we traveled and now I've turned my family into spicy peanut fans too. I made a huge batch for a road trip with some friends recently and they were such a huge hit I didn't come home with any. We munched on them when the late night hotel munchies hit. Room service snacks were to pricey and we couldn't go anywhere that late so we just grabbed a bottle of water, the remote, and the bag of spicy peanuts.
Recently, I switched from using a vegetable oil in this recipe to corn oil and I have to say that I love that the corn oil doesn't add any flavor to the nuts. I never realized that there was always a slight taste from other oil I was using, but I was pleasantly surprised when switched oil in this recipe. A simple ingredient swap can make it easier to eat right too. As part of my partnership with Mazola® Corn Oil, I'm so excited to tell you that I truly love Mazola® Corn Oil has a neutral taste which allows the natural flavors of my favorite foods and ingredients to really shine through. Combined with its high smoke point, this neutral taste makes Mazola® Corn Oil ideal for a variety of cooking applications including stir-frying, sautéing, grilling and even baking.
February is Heart Health Month, so go check out Mazola's Heart Healthy Library to find a variety of recipes that have been approved as "Heart Healthy". Did you know that Mazola® Corn Oil is a heart healthier option than many other, high saturated fat alternatives, and based on a recent study, can help lower cholesterol more than extra virgin olive oil. Also, corn oil contains more cholesterol-blocking plant sterols than other cooking oils? In fact, it has 4x more plant sterols than olive oil and 40% more than canola oil.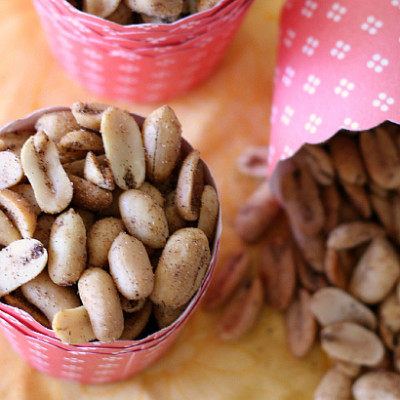 Easy Spicy Peanuts
I love making my own Easy Spicy Peanuts at home. They are a just a little spicy and pack a mouthful of intense flavor. So, skip the convenience store spicy peanuts and make up a batch.
Ingredients
3 cups roasted & salted peanuts
3 tbls Mazola® Corn Oil
2 tsp chili powder
1 1/2 tsp cumin
1/4 -1/2 tsp cayenne powder
Instructions
Heat oil in a large pan over medium-high heat. Add peanuts to pan and coat with oil. Stir until peanuts are warm. Add in chili powder, cumin, and cayenne powder. Stir until well coated.
Remove from heat and drain on paper towels for about 10 minutes. Store in an airtight container.
Nutrition Information:
Yield:

24
Serving Size:

1/8 cup
Amount Per Serving:
Calories:

200
This nutritional information is an estimate may vary, depending on brand and type of ingredients used. It is not intended to replace the advice of a licensed dietician or physician.
Disclaimer: This recipe is part of my partnership with
Mazola
® and One to One Network. I was compensated for my recipe and time; however all opinions are my own.
Join the Club!
Get delicious recipes delivered straight to your inbox each week! Plus learn how to take back suppertime in your home.

And get started with my NEW Take Back Suppertime 5-Day Jump Start Guide.