This post may contain affiliate links. Please read my disclosure.
Did you know that Bass Pro has a ton of great food?!?!? We ate at their restaurant when it first opened many years and enjoyed it but hadn't been back. However, we are constantly buying fudge and some of their prepacked food items.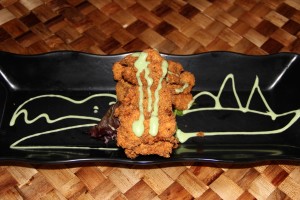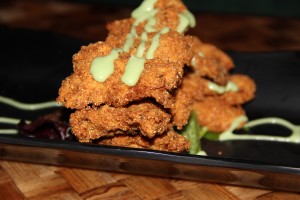 I recently had the chance to eat in the restaurant again and really enjoyed the food! I was really adventurous and tried the alligator, which wasn't bad. But I can't stop thinking about the bread that was brought to the table while we waited. It was served warm and the top of the bread had a delicious sugar crust. The bread itself wasn't sweet, but the crunchy sugar topping was so good. I'm going to have to try doing that with some of my bread. It really sets their bread apart from bread at other places…if it wasn't inappropriate I would have picked up all the sugar chunks off the table to eat, but I did try to remember the manners that my mother taught me.
Since it was lunchtime and I'm trying to make better choices I ordered the Islamorada Salad which is mixed greens with candied cashews, bleu cheese and dried cranberries tossed with raspberry vinaigrette dressing. I was pleasantly surprised at the quality of the salad. I figured it would be good but it had the perfect balance of all the flavors and of course I'm a fan of any salad that isn't filled with iceberg lettuce.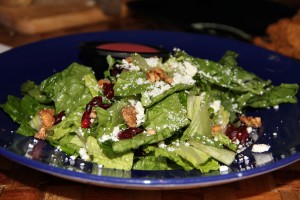 If you haven't had the chance to dine at one of Bass Pro's restaurants give it a try next time you are heading out to the store. I'm not sure if all are decorated the same, but a 13,00 gallon aquarium of beautiful and brightly colored tropical salt water fish is one of the main attractions and totally different from the fresh water fish displayed throughout the store. If you don't have time for a full meal, try the Fudge shop. Our shop makes their own fudge in store and even takes flavor inspiration from the customers and other employees.
Want to see more info about what Bass Pro has in store for the holidays…check out my local blog for all the details for Santa's workshop.
*I was not financially compensated for this post. I received a sample of the product for review purposes. The opinions are completely my own based on my experience.*