This post may contain affiliate links. Please read my disclosure.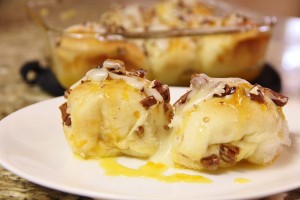 I'll admit it! I love a sweet breakfast, probably more than I should; however, hubbyman is a fan of savory breakfasts. So, for a sweet treat I would often just grab those cans of pre-made cinnamon rolls or orange rolls to have along with whatever hubbyman was going to fix.
I've made cinnamon rolls from scratch before, but what I hate is getting up at like 4am to make the dough and letting it rise. OH MY GOODNESS they are soooo good, but too much work. Right?!?! Who wants to do all that? I started thinking about the breakfast rolls that my mom makes for Christmas morning. What if I could turn them into my version of the canned orange rolls without actually having to worry about the dough.
They were a HUGE hit…I got two thumbs up from the entire family. Even hubbyman who hates sweet breakfasts, especially those canned orange rolls had seconds!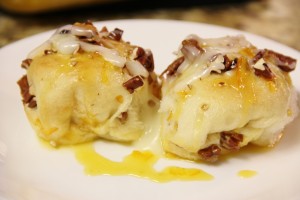 Orange Breakfast Rolls
8 frozen dough balls (such as Rhodes)
1/3 cup orange marmalade
2 tbls orange juice concentrate
1/4 cup chopped pecans
Glaze:
2 oz cream cheese, softened
1 cup confectioner's sugar
1-2 tbls milk
Preheat oven to 200 degrees F. Spray a 9×9 pan with nonstick cooking spray. Place rolls in pan, arranged evenly. Add a pan of hot water to the oven and then add pan of rolls. Turn off oven and let them rise until doubled in size (1-2 hours).
Combine orange marmalade and orange juice concentrate in a small bowl. When rolls have doubled, remove from oven and turn up heat to 375 (remove and discard pan of water too). Spread orange mixture evenly over the rolls. Top with chopped pecans. Return pan of rolls to hot oven and bake 15-20 minutes or until lightly brown. Remove pan from oven and allow to cool over wire rack.
Meanwhile, mix together cream cheese and confectioner's sugar until a thick paste forms. Slowly add milk until it reaches a nice drizzling consistency. Drizzle over cooling rolls.
**Make orange juice out of the remaining concentrate.**