This post may contain affiliate links. Please read my disclosure.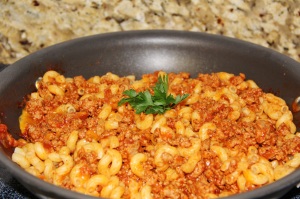 My kids were screaming for noodles AGAIN (aka macaroni & cheese), but I'm sick of it and I had some ground turkey laid out for supper so we compromised. This supper was perfect! It gave the kids the noodles they wanted, but hubbyman and I enjoyed the change from the normal mac&cheese.
It came together so fast that I think this will become a favorite on hectic nights when my daughter has church or Girl Scouts. I have to get food on the table fast two nights a week and take out always screams my name.
Everybody in the family gave it two thumbs up! If I hadn't set some aside for hubbyman, who ended up working late, he wouldn't have gotten any. The kids went back for seconds, a rarity in my house. Usually they gobble up what I make them eat and then beg for dessert, but this night they filled up on supper!
Cheeseburger Macaroni
10 oz ground meat (turkey, beef, or chicken)
1/2 small onion, finely diced
1 (15oz can) tomato sauce
1/4 cup ketchup
1 tsp chili powder
2 cups cooked elbow macaroni, drained (~1 1/3 cups uncooked)
3/4-1 cup sharp cheese, shredded
In a large skilled, brown meat and onion together over medium high heat until cooked through. Drain grease. Stir in tomato sauce, ketchup, and chili powder. Add cooked macaroni and shredded cheese. Mix well. Lower heat and simmer, stirring occasionally, until cheese melts and mixture is heated.
**Leftover notes: I actually cooked an entire 1lb box of elbow macaroni. I measured out the 2cups needed for this dish and then threw the rest in a ziptop baggie with a splash of oil, to keep it from sticking, then threw it in the fridge. I used the leftovers for mac&cheese…the kids were relentless last week. **