This post may contain affiliate links. Please read my disclosure.
So you want to take a cruise, but you have some food allergies. If you're like me, it gives you anxiety wondering if you'll be able to eat anything other than a plain salad for days while stuck on board a ship. Well, I have good news for you, Disney Cruise Dining is a piece of cake for those with food allergies.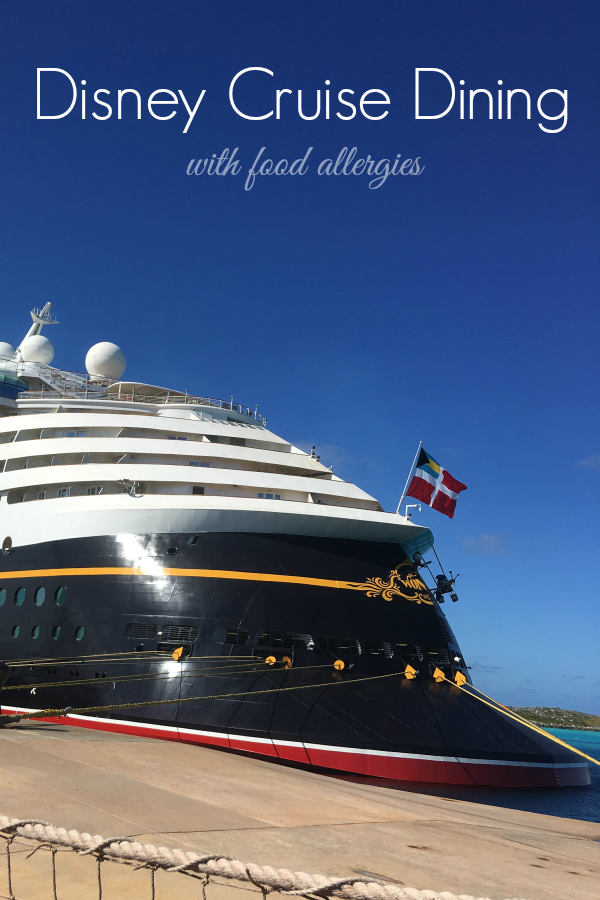 How to Navigate a Disney Cruise with Food Allergies
I recently boarded the Disney Wonder for a three day cruise to the Bahamas and Castaway Cay. It was nerve wracking because I have a wheat allergy and a life threatening dairy allergy. So, I was concerned about being able to eat any of the Disney cruise food while we were onboard. Nothing is worse than only being able to eat a plain salad for 3 days.
I knew that Disneyland & DisneyWorld take food allergies very seriously, but that's on land. Could they really be able to accommodate my requests at sea? Disney cruise line dining doesn't have to be scary, apparently I freaked myself out before I went but I'm happy to report that I ate very well. I never went hungry.
Before You Go:
After booking your Disney cruise, the best thing to do is send an email to the Disney and also let your travel agent know (if you are using one). You can also call the Speciality Service Team to let them know of any life-threatening allergies. As when you do with any travel, make sure to bring a few safe snacks with you in your suitcase. I always pack individual packs of nuts, granola bars, and beef jerky to have on hand when I travel.
On Board:
For the most part, skip the quick service locations. You are able to get a few things, but they are very limited since it's more of a buffet style. I was able to special order eggs to be cooked in a clean pan with no butter (since they were doing omelets). Of course, there was plenty of fresh fruit on the buffet. Just use your best judgement at the quick service locations, but don't expect a special meal to be made.
The best option is to always dine at one of the restaurants. The first time we dined and met our servers, I let them know about my allergies (shockingly, they were already aware that I would be at their table). I was given a special menu to look at and order from. A lot of the options were the same as the main menu, if you are only gluten free. Since I was also dairy free, I picked my favorite item and the chef got creative with the sides, mostly I had plain rice and steamed veggies for my sides. But my entrees were awesome.
At the end of supper the first night, the server presented me with the menu for the next night and I was able to pre-order my meal. This was so nice since the allergy free meals take longer to prepare the kitchen could be working on it in advance. Each night after that, I preordered my suppers and I even preordered my breakfast for the disembarkation morning.
If you aren't aware, on a Disney cruise you are assigned restaurant dining rotation and your servers are the same each night…even in the different restaurants. I actually loved this because I didn't have to repeat my allergies and my servers to extreme care to make sure my meals were safe.
In the caribbean, the Disney ships stop at Disney's private island, Castaway Cay. They have one restaurant location on the island that has all the allergy meals. All the restaurants have the same menu, but one of the locations specifically has the gluten free buns and other items I needed for a full meal. I also arranged this meal ahead of time with my main server the night before we stopped at Castaway Cay.
I did have one issue during lunch service with a different server who assured me my food was gluten & dairy free; however, I knew there was no way it was dairy free. The server kept insisting…and so did I. Finally the chef agreed that yes it was made incorrectly and remade my meal. My regular dinner server apologized that night at supper and told me the whole kitchen and waitstaff heard about it and were being retrained on my meals.
Overall, I felt very confident that my food was being prepared safely and I ate plenty of delicious food onboard my ship. I didn't go hungry, ever.
Head over to Get Away Today to save the most on your Disney cruise!
Disclaimer: I cruised as part of the 2017 Disney Social Media Moms Celebration; however, I paid my own way to attend.