This post may contain affiliate links. Please read my disclosure.
I had a yogurt party a few weeks ago and asked friends to bring over their favorite yogurt-inspired dish. This was probably the hit of the evening. It is so easy that there isn't much to say about it. It was perfect for dipping veggies and pita bread in.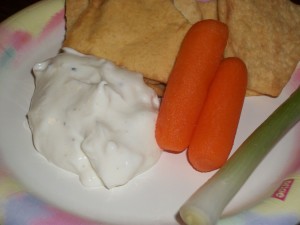 Easy Yogurt Dip
6 cups Greek yogurt 2 tsps salt pepper, garlic
In a large bowl, stir the salt into the yogurt. Spoon the yogurt into the center of a piece of doubled cheesecloth.
Pull corners together and tie tightly.Suspend from a stationary object (spoon, dowel rod, etc) over a bowl to catch the liquid.Let this hang overnight or up to 12 hours.
When it is well drained it should be the consistency of cottage cheese. Remove from the cloth. Add is a little pepper and minced garlic for a mild dip. Store covered in the refrigerator until needed.
Other options include: fresh or dried herbs or maybe some olive oil and lemon juice. Get creative!