This post may contain affiliate links. Please read my disclosure.
I found this simple chicken dish in a cookbook my mom put together for me when I moved out. I don't know why I didn't see it before and I don't remember ever eating it, but it sounded good.
I really wanted to grill the chicken, but we were out of propane so into the oven it went. The only problem with this dish is that my 6yo daughter was expecting "orange chicken"…the type from a Chinese place. After we explained that it was similar but that's not what it was supposed to be she happily cleared her plate.
Serve with brown rice and a green salad for a meal that's easy on your waistline!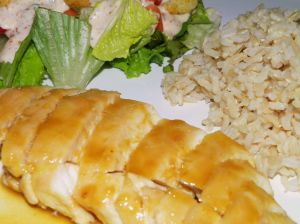 Baked (or Grilled) Orange Chicken
2 chicken breasts, halved & skinned
2 tbls frozen orange juice concentrate
1 tsp garlic salt
1 tbls soy sauce
Preheat oven to 375. Place chicken in a pan sprayed with non-stick cooking spray. Mix remaining ingredients together and drizzle over chicken. Bake for 45-50 minutes, basting often (to keep chicken moist). Or grill over medium heat, basting often.