This post may contain affiliate links. Please read my disclosure.
Well, at least I feel stupid when I realize that i ate almost the entire dish with little help from anyone else. I hate to admit it, but sometimes I make this just for me to go with my lunches for the week.
But, with the Super Bowl coming up this weekend, I thought this would be a great game day treat whether you are staying home, having a party, or need to take a dish to a friend's house. It is super versatile….make it in the slow cooker or your microwave…depends on how much you need to make. Though if you use the slow cooker you will want to 4x the recipe so that it doesn't burn and sort of fills the pot.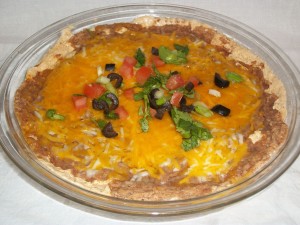 Stupid 4 Ingredient Taco Dip
1 block cream cheese, softened
1 can refried beans (or use leftover homemade)
1/2 pkg taco seasoning (or make your own)
2 cups shredded cheese
toppings opt: green onion, tomato, black olives, lettuce, sour cream, cilantro
Combine softened cream cheese and taco seasoning in a medium size bowl. Spread in the bottom of a pie dish (or slow cooker). Layer on the refried beans. Top with cheese. Cook in the microwave until it's all hot and bubbly (3-5 minutes). Or cook in slow cooker on low for an hour or so. Add additional toppings before serving, if desired.