This post may contain affiliate links. Please read my disclosure.
These Eggnog Chocolate Chip Butter Cookies are sure to be the hit of your Christmas cookie plate!
Be sure to sign up for my email list….seasonal recipes in your inbox every week!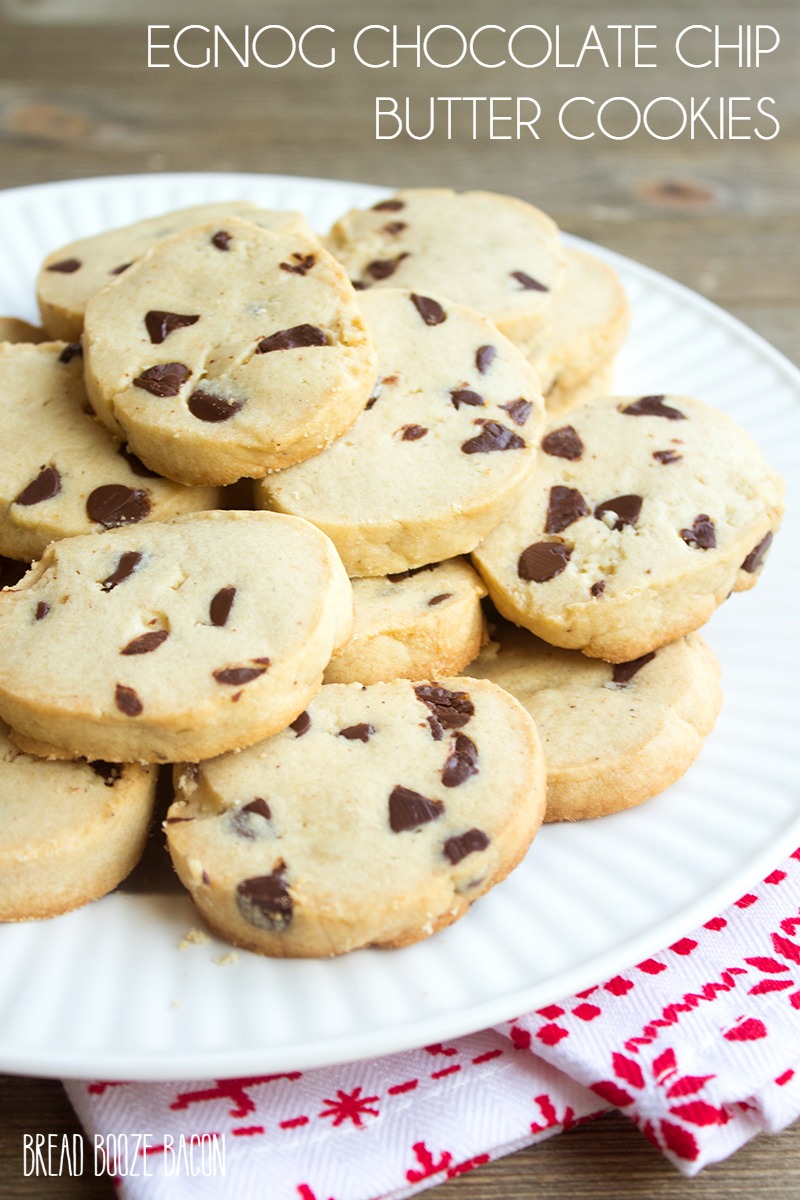 I don't know about you, but Christmas at my house means eggnog. I drink it, put it in trifles, cookies, and boozy eggnog fluff. It's the best! For this year's cookie plate I decided to marry my favorite holiday flavor with my all-time favorite cookie, chocolate chip, for a holiday dessert that's sure to be a hit.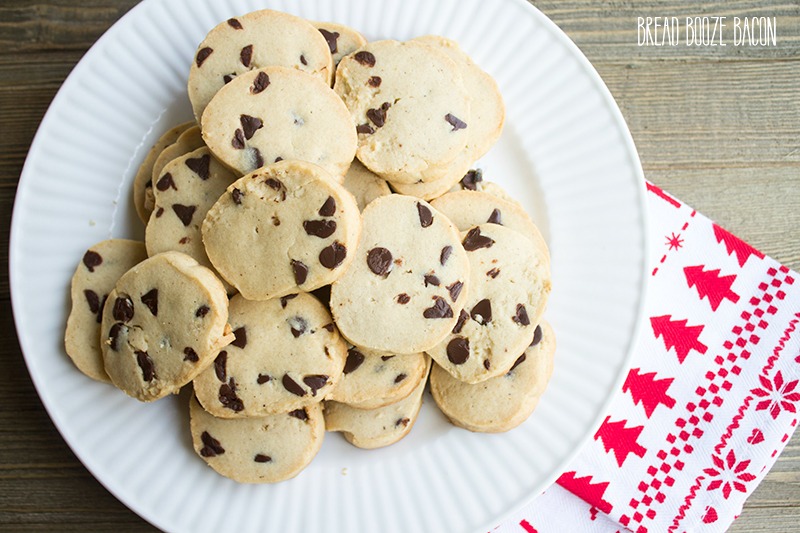 Fair warning about these cookies, they'll disappear just about as fast as you can make them. I had my boys give them a taste test, and then they proclaimed these cookies are even better than regular chocolate chip cookies. I called sacrilege, but they know their cookies so I let it slide. While there's no actual eggnog in these cookies, they are full of the nutmeg and spiced rum flavors that invoke all those eggnog tastes we love. Besides, they go great with a big glass of eggnog on the side.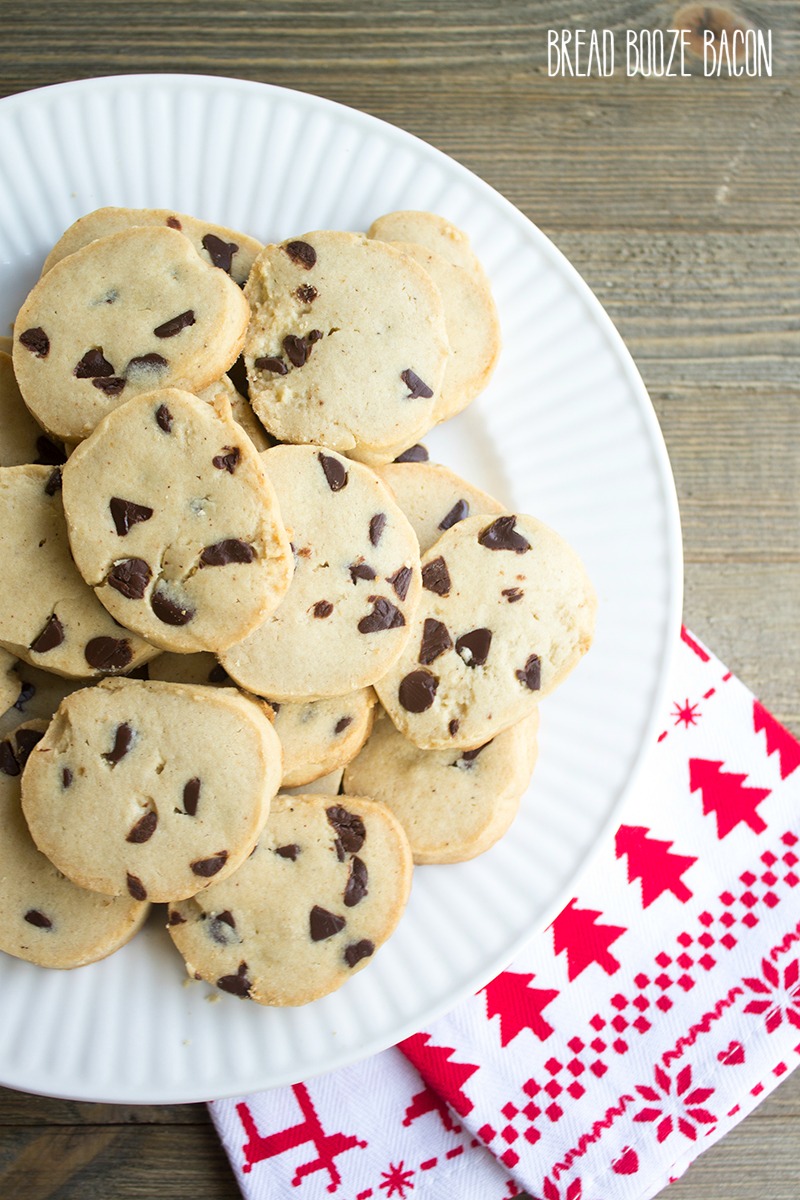 One of my favorite things about this cookie is that you can make the dough ahead of time and store it for later. You can even freeze the dough! Then when you're ready, thaw the dough (if it's frozen), cut slices, and bake! You can give the dough or cookies as a gift to co-workers, friends, family, or take it along with a hot cocoa kit to a white elephant exchange. It'll be the gift everyone wants!
Julie Kotzbach blogs over at Bread Booze Bacon. You'll love that she's a total food nerd who's obsessed with carbs, Guinness, bourbon, whiskey, and cheese and she's a sucker for unique jello shots. While you're at it, check out her Christmas Crinkle Cool Whip Cookies…Mmm Mmm Mmmm!!!
Be sure to follow on Instagram and tag #amftrecipes when you share one of my recipes….so I can see all the wonderful recipes YOU make!
Connect with Around My Family Table!
Make sure to follow on social media, so you never miss a post!
Facebook | Twitter | Pinterest | Instagram | Bloglovin' | Google+
Sign up to receive seasonal recipes once a week or
receive an email in your inbox for each new recipe: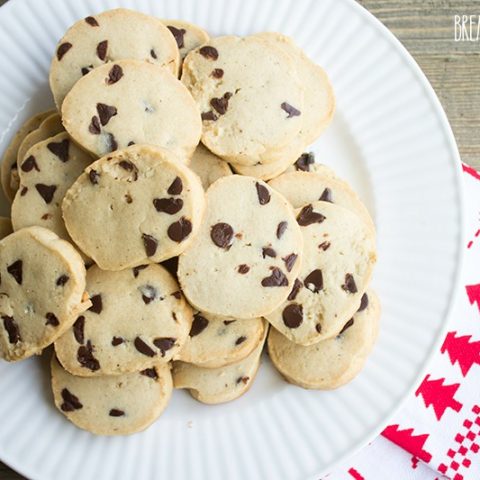 Eggnog Chocolate Chip Butter Cookies
Prep Time:
2 hours
10 minutes
Total Time:
2 hours
25 minutes
These Eggnog Chocolate Chip Butter Cookies are the perfect holiday cookie! While they don't have actual eggnog in them, they have the flavors of eggnog.
Ingredients
2 cups all-purpose flour
1/2 teaspoon ground nutmeg
1/2 teaspoon salt
1 cup (2 sticks) unsalted butter, at room temperature
1/2 cup light brown sugar, packed
2 egg yolks
1 teaspoon vanilla
1 tablespoon spiced or dark rum
1/2 cup mini chocolate chips
Instructions
In a medium mixing bowl, stir together the flour, nutmeg, and salt until combine. Set aside.
In a large mixing bowl, beat together the butter and brown sugar until fluffy, 1-2 minutes.
Add 1 egg yolk to the butter mixture. Beat until just combined. Repeat with the other egg yolk. Scrape the sides of the bowl as needed.
Add the vanilla and rum, and mix to combine.
Add the dry ingredients to the wet ingredients in two additions, mixing until just combined after each addition.
Use a wooden spoon or rubber spatula to stir in the chocolate chips by hand.
Lay out a large piece of plastic wrap on a flat surface. Place the cookie dough on the plastic wrap and form it into a log that's about 2-inches in diameter.
Wrap the plastic wrap around the cookie dough. Then, twist the ends and then tuck them under the dough log to seal.
Refrigerate the dough for at least 2 hours to overnight.
Remove the cookie dough from the fridge and preheat heat your oven to 350 degrees F.
Unwrap the cookie dough, and using a sharp knife cut the dough into 1/4-inch slices.
Place the cookie dough slices on a parchment paper or silicone mat lined cookie sheet.
Bake for 13-15 minutes, or until the bottom edges are golden. Remove from the oven and let rest on the cookie sheet for 2 minutes before transferring the cookies to a wire rack to cool completely.
Notes
I don't recommend regular sized chocolate chips for this recipe. They make the dough log harder to cut and the cookie dough slices are less likely to stay whole as the chocolate chip separate from the log.
Nutrition Information:
Amount Per Serving:
Calories:

232
Total Fat:

1g
Carbohydrates:

48g
Protein:

6g