This post may contain affiliate links. Please read my disclosure.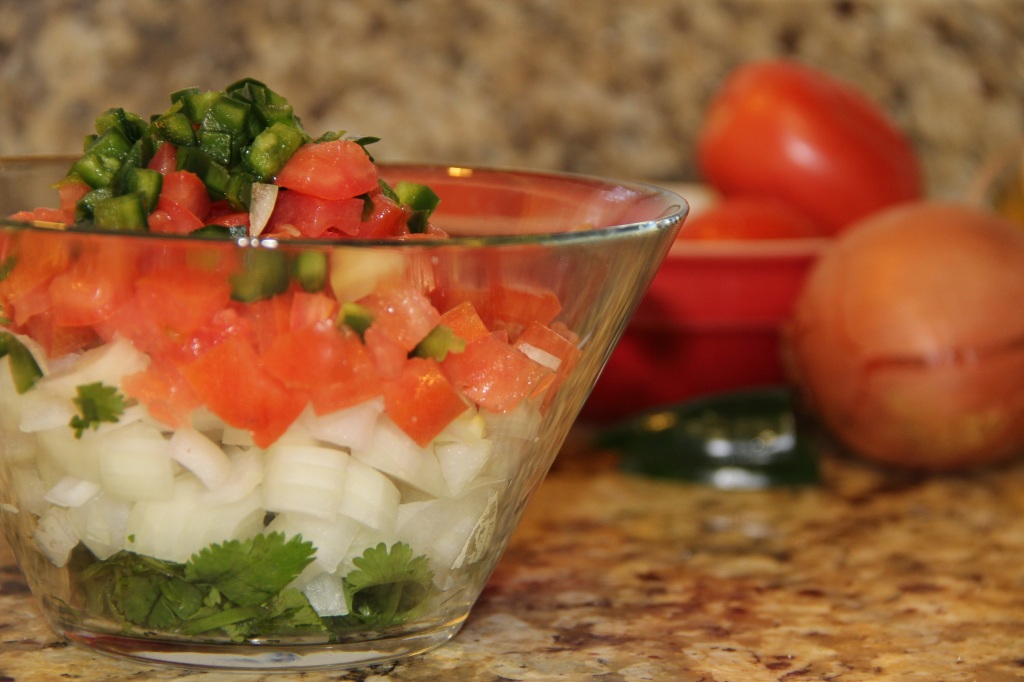 Living in the southwest there is no shortage of salsas, pico de gallos, and hot sauces. Some are good, some are bad, and some are horrible. There are a probably a handful of places that I love! But sometimes, all I crave is a good fresh pico de gallo. If you aren't from this part of the country, you are probably wondering what the difference is between this and a salsa. Pico de Gallo usually has very few ingredients, uncooked, and less liquid than a salsa.
I love the cool, clean, fresh flavors of a simple Pico de Gallo. I could easily eat just this and a good salty tortilla chip for lunch and NOTHING ELSE! My husband gets giddy, like a school boy, when I make any sort of homemade salsa or pico (as we call it for short). He spoils his supper almost every time, by "sampling" the dip! LOL!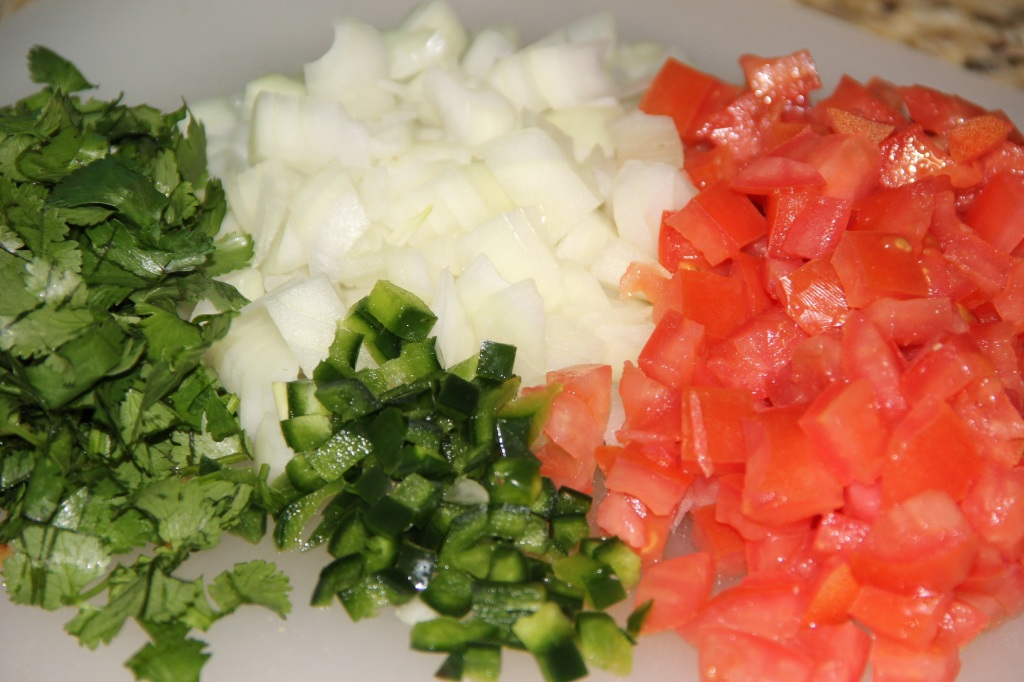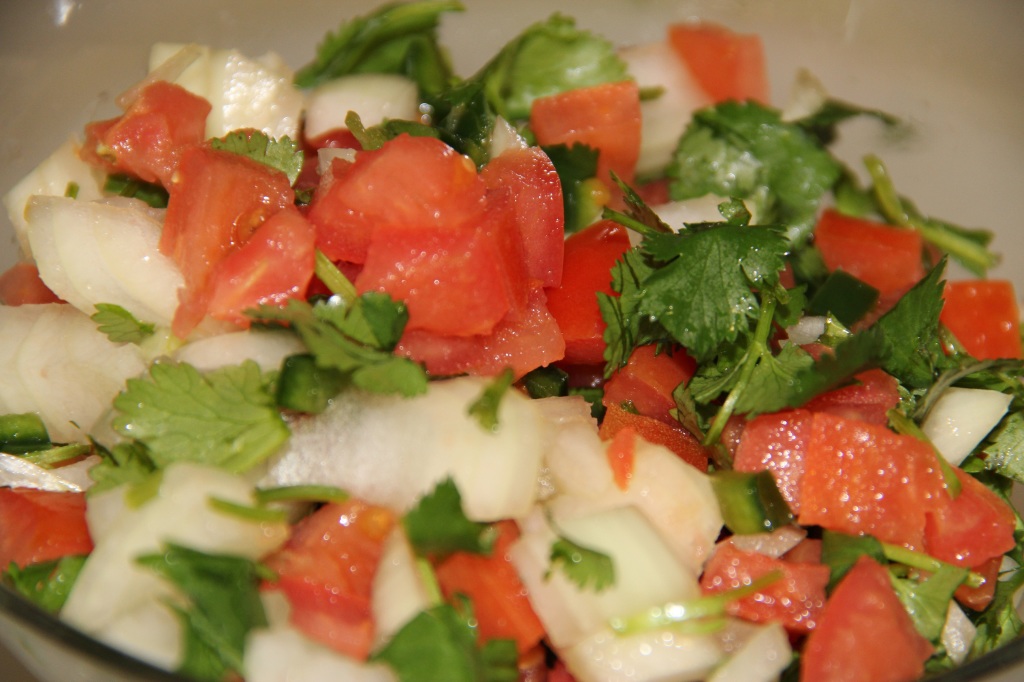 Seriously, how good does this look! Is it bad that I want to lick the screen right now?!?!? I'm trying to contain myself, I promise!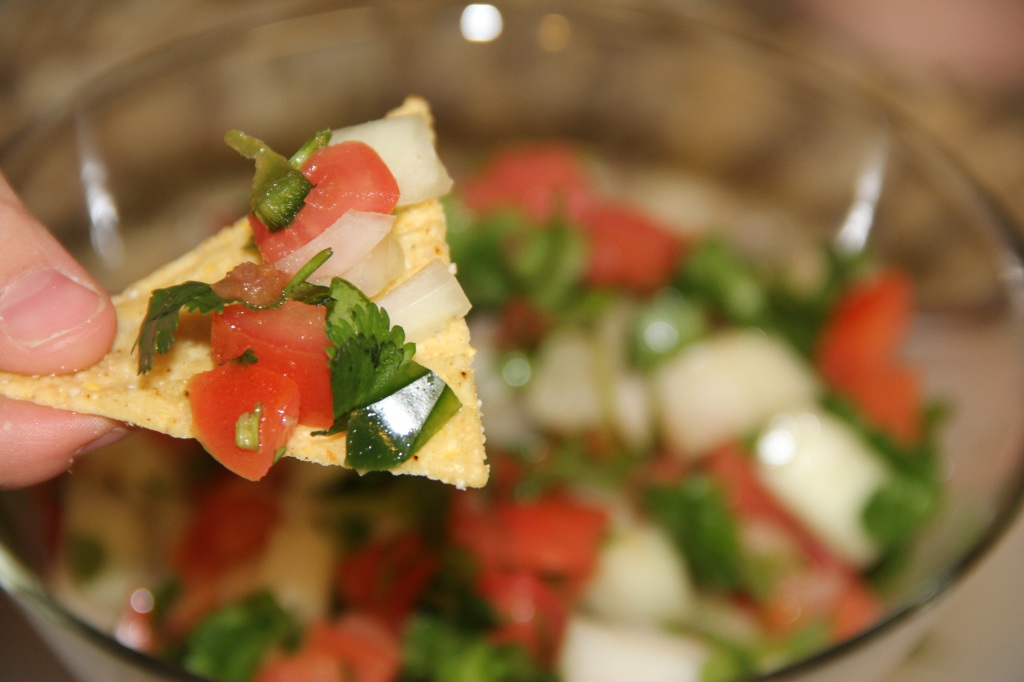 I'm a little OCD about my pico. I try to make sure the tomato and onion are diced the same size. I think it gives it a great look. With that said…I don't do it by hand. I wish I had the knife skills for that. I use an alligator chopper that has interchangeable sizes and is made of stainless steel! It's a work horse and I love it! It's one of my favorite kitchen tools…I use it all the time and the best part is that my daughter can use it too!
If you are looking for a more traditional salsa, you have to try my Perfect Salsa recipe or my Green Tomatillo Salsa. Both use either a blender or food processor to make and are easy and delicious!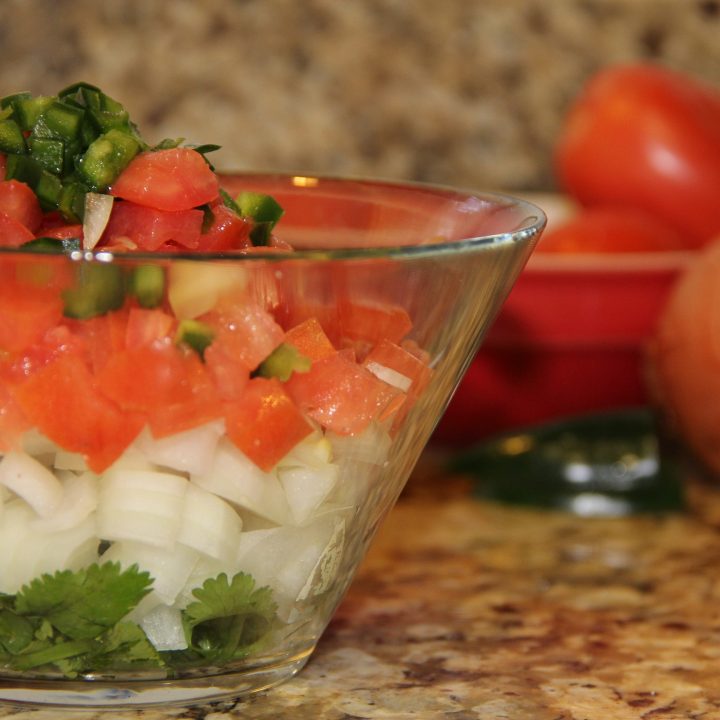 Fresh Pico de Gallo
Pico de gallo is a healthy condiment or dip made from fresh tomatoes, onion, jalapenos and cilantro. It makes a fantastic garnish for chicken or fish, and a delicious snack dip, too!
Ingredients
2 cups diced onion, white or yellow (about 1/2-1 large onion)
2 cups diced plum tomatoes, juice and seeds removed (about 5-6)
1 cup chopped cilantro
2-3 jalapenos, seeded and deveined, finely diced*
salt
juice of 1 lime (opt)
Instructions
Combine all ingredients in a large bowl. Season with salt and lime juice as desired. Store in refrigerator for several hours or overnight to allow the flavors develop.
*For a spicy pico, add in some jalapeno seeds and veins.
Nutrition Information:
Yield:

4
Serving Size:

1
Amount Per Serving:
Calories:

102
Total Fat:

0g
Saturated Fat:

0g
Trans Fat:

0g
Unsaturated Fat:

0g
Cholesterol:

0mg
Sodium:

191mg
Carbohydrates:

24g
Fiber:

3g
Sugar:

15g
Protein:

3g