This post may contain affiliate links. Please read my disclosure.
I have been craving a good strawberry cupcake; however, all store bought mixes have very little flavor and lots of dyes. And most recipes for "scratch" cakes call for jello (again…we can't have the dye). So I decided it was time to tackle this recipe and see what I could come up with.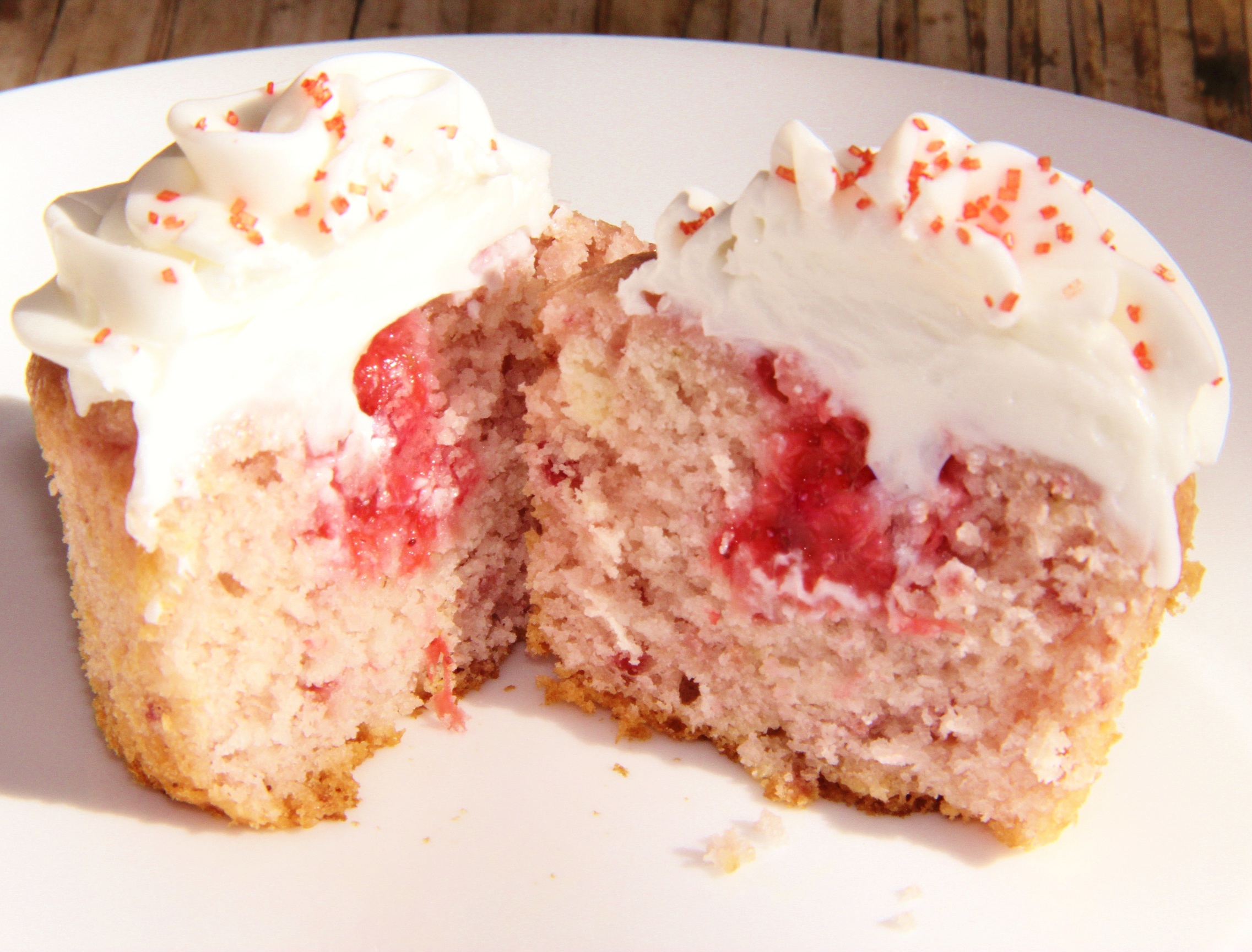 Our family met at our local BBQ place…they give a free meal on your birthday, so we are always there….and I brought the cupcakes. I love experimenting (and my family loves it too). So last weekend was the perfect weekend because it was my nephew's 13th birthday. He is a really picky eater, so I am pleased to announced that this past his test.
Honestly, you could swap out the "scratch" part of the recipe for a boxed white cake mix. But you should try making your own cake from scratch at least once. I promise it's very easy! Complete the look by using decorating tube 1M.
One last picture, just cuz it turned out really neat. I had a lot of fun with my new camera at the restaurant…it was a beautiful January day in Phoenix.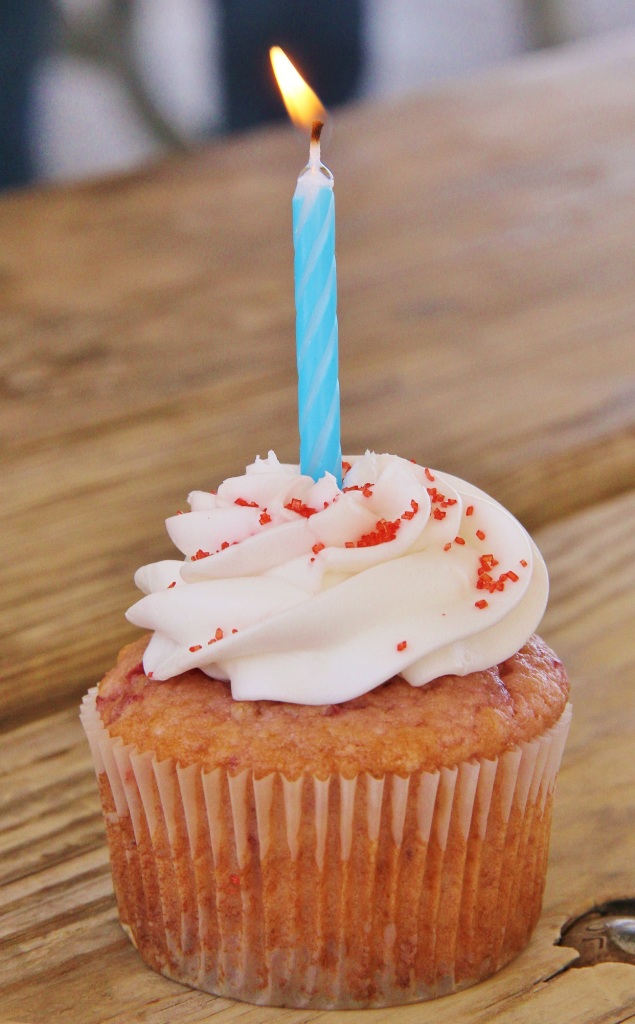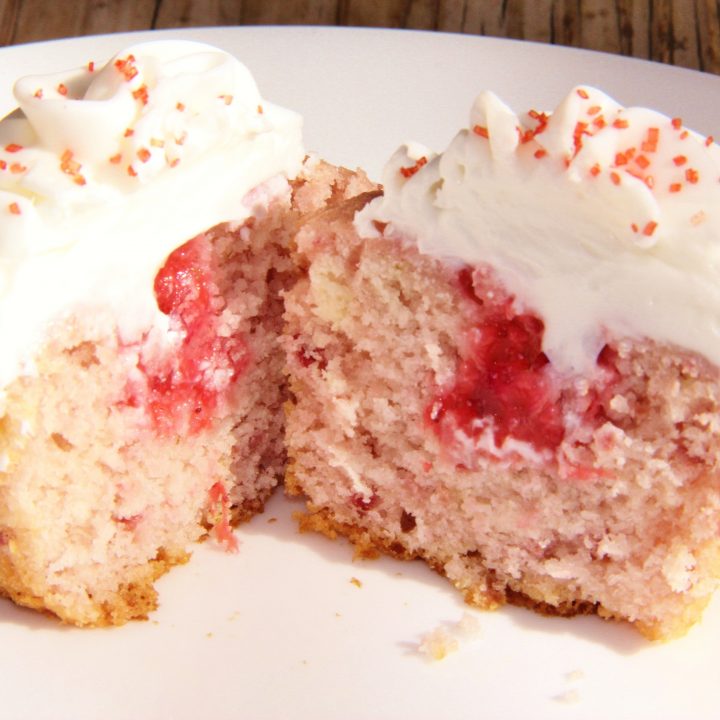 Strawberry Cupcakes with Strawberry Filling and Almond Buttercream
These fresh strawberry cupcakes are made from scratch using real strawberries and no food coloring!
Ingredients
Cake:
3 cups flour
4 tsps baking powder
1 tsp salt
2 cups granulated sugar
3/4 cup butter, melted and slightly cooled
1 1/2 cups pureed strawberries
1 tsp pure vanilla extract
4 large eggs, slightly beaten
Filling:
3/4 cups pureed strawberries
Frosting:
1/2 cup butter, softened
1/2 cup Shortening
2 tbls warm water (2-3)
1 tsp almond extract
1 lb confectioners sugar
Instructions
Preheat oven to 325F. Line cupcake pan with liners and lightly spray with non-stick cooking spray.
In a large bowl combine the flour, baking powder, salt, and sugar. In another bowl, combine the butter, vanilla, and eggs. Add the wet to the dry ingredients and mix well. Stir in strawberry puree.
Fill muffin tins about 3/4 of the way full. Bake for 15-25 minutes or until done.
For the Filling:
*Use either fresh or frozen berries. If using frozen berries, allow them to thaw before putting in the blender to puree.
Use a straw or frosting tip to punch a little hole in the center of each cupcake.
Place filling in a piping bag or zip-top bag, snip the end and fill the holes with a little of the strawberry puree.For the frosting:
For the Frosting
Beat together butter, shortening, 1 tbsp of warm water, and almond until smooth and creamy. Beat in the sugar gradually on a low setting. Scrape sides of bowl as needed.
Mixture will be very thick. After all sugar is incorporated, add 1-2 more tbsp. of warm water and beat at medium/medium-high speed for 1-2 more minutes. Adding more warm water will continue to thin the frosting consistency and bring down the sweetness even more. Add as much as you like to get the appropriate flavor and consistency. Be careful because a little goes a long way.
The frosting can also be made several days in advance and stored in an airtight container in the refrigerator. Bring to room temperature, then mix well before using. Leftovers should be refrigerated.
Get the look by using Wilton decorating tip 1M fitted into a piping bag.

Nutrition Information:
Yield:

24
Serving Size:

1
Amount Per Serving:
Calories:

337
Total Fat:

15g
Saturated Fat:

8g
Trans Fat:

0g
Unsaturated Fat:

6g
Cholesterol:

59mg
Sodium:

268mg
Carbohydrates:

49g
Fiber:

1g
Sugar:

36g
Protein:

3g