This post may contain affiliate links. Please read my disclosure.
Have I mentioned how much fun I had on my trip to Chicago? If you missed it, check out the Kitchari recipe and my other post (ahem…do I have to tell you there is a 30% coupon code in that post that expires on Sunday). It was a blast at the Kenmore Blogger Summit and I really learned a lot and there was plenty of tasty food too.
I love green smoothies and this one was really good. It had lots of new ingredients in it that makes it extremely healthy. I wish I could remember all the details about each ingredient, but I don't…just trust me. However, one that that I already knew that was mentioned was that if you are looking to make a small change to organic produce, start with your berries. They hold a lot of the pesticides in and produce with a peel keeps a lot of stuff out (think banana, pineapple, orange, apple, etc) as long as you peel it.
Green Grocer Chicago features organically grown, locally produced food products, and other specialty items. You can find out more about them on their website, twitter, and facebook.
I've linked to the ingredients that are a bit unusual. Check them out. I challenge you to try this smoothie or at least add in one of the "new" ingredients.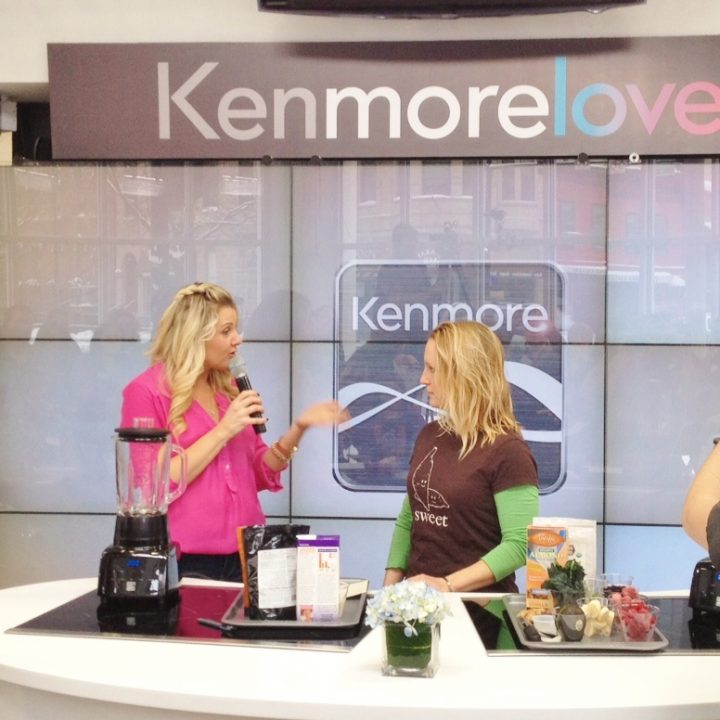 Healthy Smoothie Recipe - You Make Me a Better Person
This healthy smoothie recipe will make you feel like a better person! Fresh fruit and kale blended with hemp milk, chia seeds, and maca powder.
Ingredients
3/4 cup Hemp Milk
Splash of water
1 tbl Chia Seeds
1/2 tbl Maca Powder
1/2 c. organic raspberries
1/2 c. organic strawberries
1 Tangelo, peeled
4 leaves of Kale
Fresh mint to taste
Instructions
Place all ingredients in blender. Process on high for a minute or two or until consistency is smooth.
Divide smoothie equally into 2 serving glasses and enjoy!
Nutrition Information:
Yield:

2
Serving Size:

1
Amount Per Serving:
Calories:

176
Total Fat:

3g
Saturated Fat:

1g
Trans Fat:

0g
Unsaturated Fat:

1g
Cholesterol:

7mg
Sodium:

111mg
Carbohydrates:

33g
Fiber:

9g
Sugar:

10g
Protein:

9g
Disclaimer: Kenmore paid the way for all of the Summit and is sending me a small appliance. All opinions are my own.