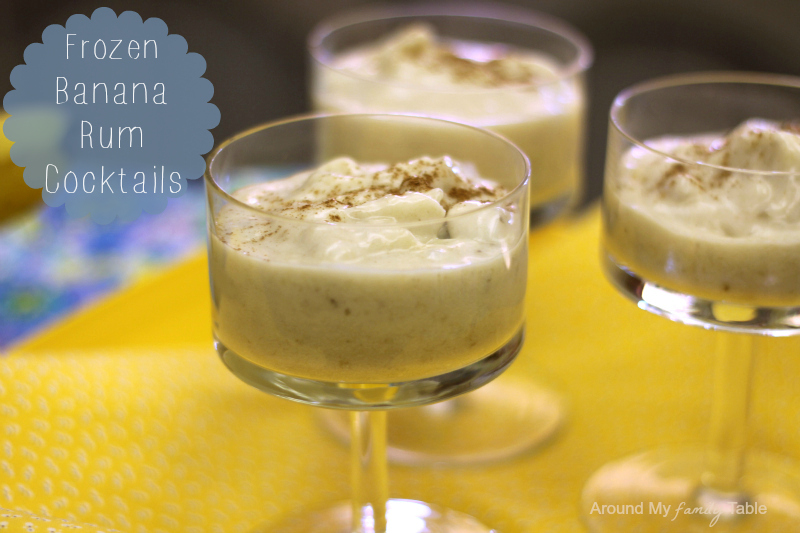 WOOHOO!  It's summertime.  Schools out, the pools are open, and play dates are in full swing!  This also means it's time for big tall glasses of frozen drinks…smoothies, frappuccinos, and frozen cocktails.  Oh yes, I said frozen cocktails.  And this Frozen Banana Rum Cocktail is perfect for any afternoon sitting by the pool.  It's cool and refreshing with a hint of rum but huge banana flavor.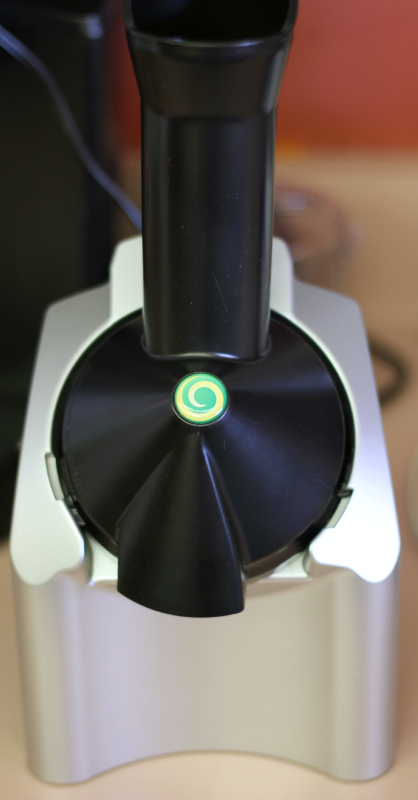 Dole sent me some goodies recently including this fun new YoNanas machine.  At first, I wasn't thrilled with having another gadget to use, but after using it once I don't think I will be able to live without it.  It takes frozen bananas and turns them into banana ice cream or use with different ingredients to change it up a bit.
I added banana ice cream to the bottom of ice cream cones (aka scoop #1) and then topped with ice cream (scoop #2).  The kids had a double scoop cone which is unheard of around here and it wasn't terribly unhealthy.  The kids all loved it!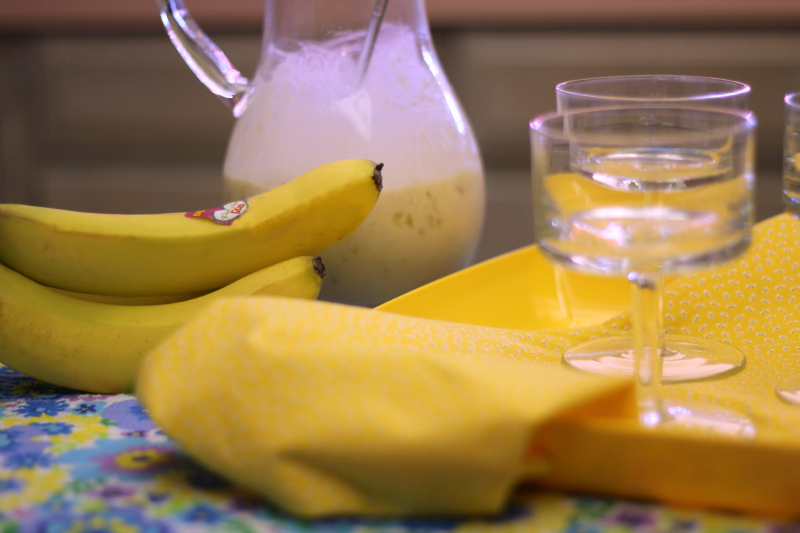 Basically, I took the frozen banana ice cream and mixed with my cocktail ingredients for an instant frozen cocktail. My friends and I sat out by the pool sipping these while the kids played.
Frozen Banana Rum Cocktails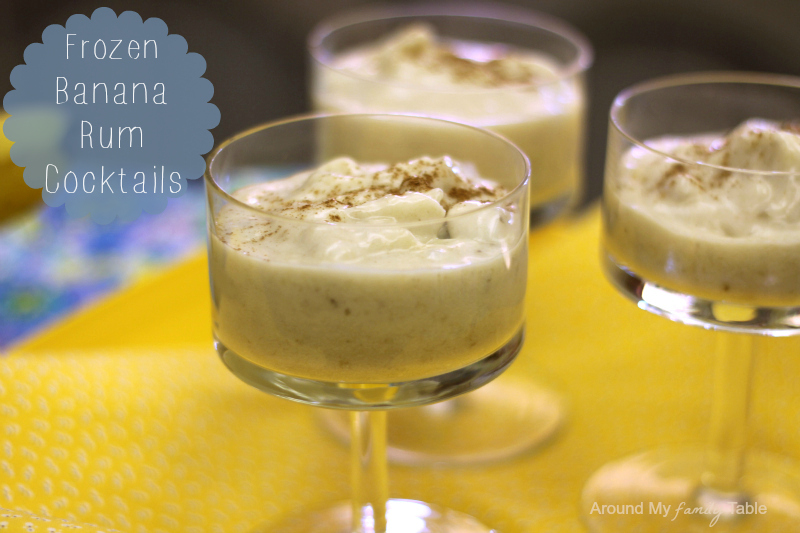 5-6 perfectly ripe bananas
1/2 cup Coco Real
1/4 Vanilla Rum
cinnamon
Peel and freeze bananas overnight. Lay out bananas 15 minutes to soften before running them through the YoNanas machine.
Follow instructions for YoNanas machine for processing the bananas.
Combine banana ice cream with rum and Coco Real in a large pitcher.
Pour into glasses and garnish with a light dusting of cinnamon.
Serves 4
© Around My Family Table
7.8.1.2
159
https://www.aroundmyfamilytable.com/frozen-banana-rum-cocktails/
Make sure to check out the Peel the Love Tour coming to 8 wonderful cities this summer.  If you are in the Phoenix area check out one of these great locations now through July 7th.
June 27, 2013
Walmart — 1825 W Bell Rd., Phoenix, AZ
4PM – 6PM
June 28, 2013
Walmart — 2501 W Happy Valley Rd Ste 34, Phoenix, AZ
11AM – 2PM
June 29, 2013
After Dark in the Park — 19602 N 19Th Ave, Phoenix, AZ
6PM – 10PM
June 30, 2013
Walmart — 6145 N 35th Ave, Phoenix,AZ
4PM – 7PM
July 2, 2013
Walmart — 15355 N Northsight Blvd, Phoenix, AZ
4PM – 6PM
July 3, 2013
Independence Day Music Festival — 7555 N Pima Rd, Scottsdale, AZ
5PM – 9PM
July 4, 2013
Fabulous Phoenix 4th — 300 E. Indian School Rd., Phoenix, AZ
6PM – 10PM
July 5, 2013
Walmart — 5250 W Indian School Rd, Phoenix, AZ
4PM – 7PM 
July 6, 2013
Phoenix Zoo — 455 N Galvin Pkwy, Phoenix, AZ
9AM – 2PM 
July 7, 2013
Walmart — 7975 W Peoria Ave, Phoenix, AZ
11AM – 2PM
Plus, I've teamed up with a bunch of other great bloggers today to bring you a bunch of Summertime Inspired Recipes!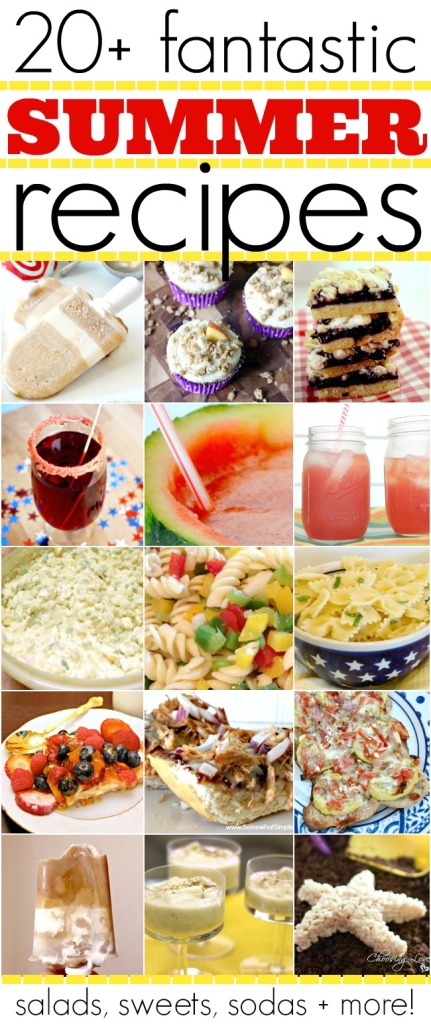 Watermelon Berry Chia Seeds Pops
And, even more Favorite Summer Recipes
Disclaimer: I received a Peel the Love party kit.  Recipe and opinions are my own.
Join the Club!
Get delicious recipes delivered straight to your inbox each week! Plus learn how to take back suppertime in your home.

And get started with my NEW Take Back Suppertime 5-Day Jump Start Guide.