This post may contain affiliate links. Please read my disclosure.
A few weeks ago, I shared my Mocha Frappaccino that has a secret ingredient keeping it from separating. It was a wonderful break through in the terms of frozen drinks in my house. Well, after I figured out the mocha frap, I decided to start trying to recreate my favorite drink…a Frozen Caramel Macchiato.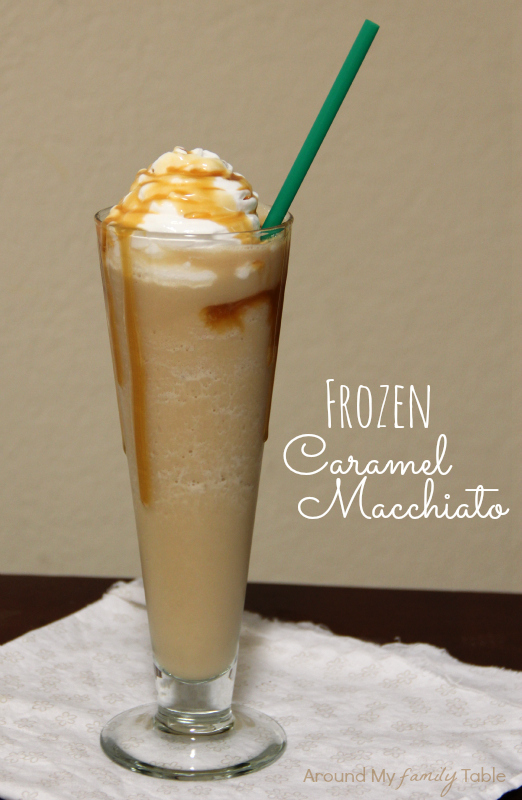 I'm a bit obsessed with my coffee drinks and I'm really picky too. My favorite to grab a drink is delish, but costs $5 for a medium. I try to only go on double stamp day or when they are having a special so I don't spend all our money on wonderful coffee. So, I've learned with a few key ingredients I can duplicate some of my favorites at home.
Having a great blender is a must for making these drinks often. Having a cheap blender will work for a little while, but it will burn out on you…so do yourself a favor and just invest in one really good blender. My favorites are the Vitamix, Ninja Kitchen, and BlendTec.
My 8yo daughter loves this drink! I know I probably shouldn't let her have it, but she just loves it so much. I usually fill my tumbler all the way up and then give her what's left. She thinks I'm the best mom ever for letting her have some. My son, on the other hand, I've caught sipping my Mocha Frap. Silly kids!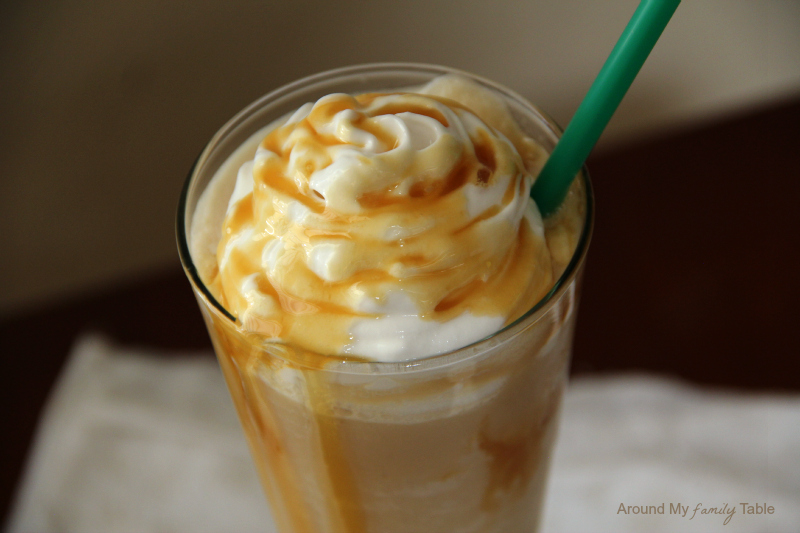 So that secret ingredient I mentioned earlier…xantham gum. It works as a binder to hold everything together and keep it from separating.
Xanthan Gum acts as an emulsifier and thickener. Just a pinch added to your blended coffee will keep it from separating! Xanthan Gum can be a bit pricey but it is so worth it and you will only use a tiny bit for each drink. So instead of spending $5 for a blended coffee you will only be spending about $.50 for your caffeine fix! It's also good to have around if you do any sort of gluten free baking for yourself, family, or friends! It's a must have ingredient!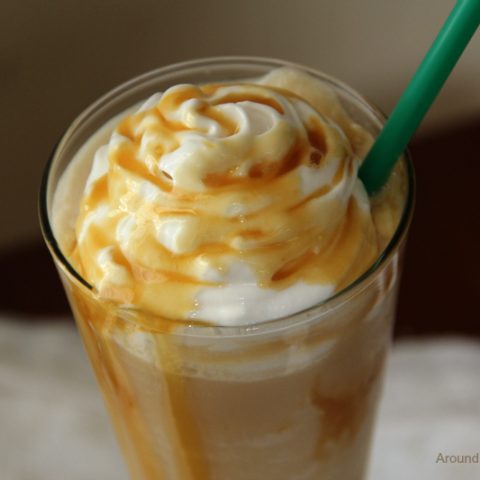 Frozen Caramel Macchiato
This frozen caramel macchiato coffee drink is SO much better than the coffee house version and a lot less expensive, too!
Ingredients
3/4 cup fresh espresso or double strength coffee, use a caramel flavor if you can find it
3/4 cup milk (soy, rice, low fat, 2%, whole, etc)
3 tbls Torani Caramel syrup
pinch of xanthan gum (about 1/16 tsp)
2 cups ice
Instructions
In a large blender, add warm coffee and xanthan gum and process on slow speed for about 30 seconds. (The warm coffee helps to completely blended in the xanthan gum.)
Add milk and caramel syrup and blend for about 15 seconds just to combine. Finally, add in ice and blend on high power until ice is completely crushed and blended into coffee mixture.
Pour into a large cup and top with whipped cream and a drizzle of caramel sauce if desired.
© Around My Family Table
Nutrition Information:
Yield:

3
Serving Size:

1 cup
Amount Per Serving:
Calories:

224
Total Fat:

1g
Saturated Fat:

1g
Trans Fat:

0g
Unsaturated Fat:

1g
Cholesterol:

5mg
Sodium:

230mg
Carbohydrates:

50g
Fiber:

0g
Sugar:

31g
Protein:

4g
Some of my other favorite coffee drinks:
Mocha Frappuccino
Frozen Mocha Lattes
Nutella Blended Coffee Drinks
and Make your Own Coffee Creamers