This post may contain affiliate links. Please read my disclosure.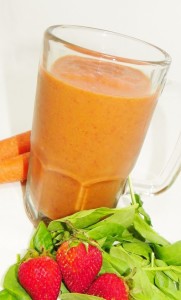 One of my kids favorite snacks is a fruit smoothie. Little do they know that it is actually a fruit and veggie smoothie. Both of my kids are picky eaters, especially my 6yo daughter who refuses anything green or any other veggies. So I resort to sneaking the veggies into their smoothies. They can't taste it, but I know they are getting at least a serving or two of veggies in every glass.
Veggies that are easily hidden in fruit smoothies are:
spinach
kale
chard
cabbage (red or green)
romaine
carrots
beets (and the tops too)
Feel free to use what you have on hand and play around with different veggie/fruit combos. Warning: celery has a peppery flavor and is not good to hide and iceberg lettuce has no real nutrition, so don't use it.
Fruit (& Veggie) Smoothies
3 cups strawberries (include the tops, they are good for you)
2 big handfuls of spinach
1-2 carrots (no need to peel, just wash well)
1 cup of orange juice
1-2 cups of ice
Put everything in the blender and blend on high for 1-2 minutes until everything is blended well. *If the berries aren't ripe enough, feel free to add a bit of honey or agave nectar to sweeten it up.
Yield: 4 8oz servings